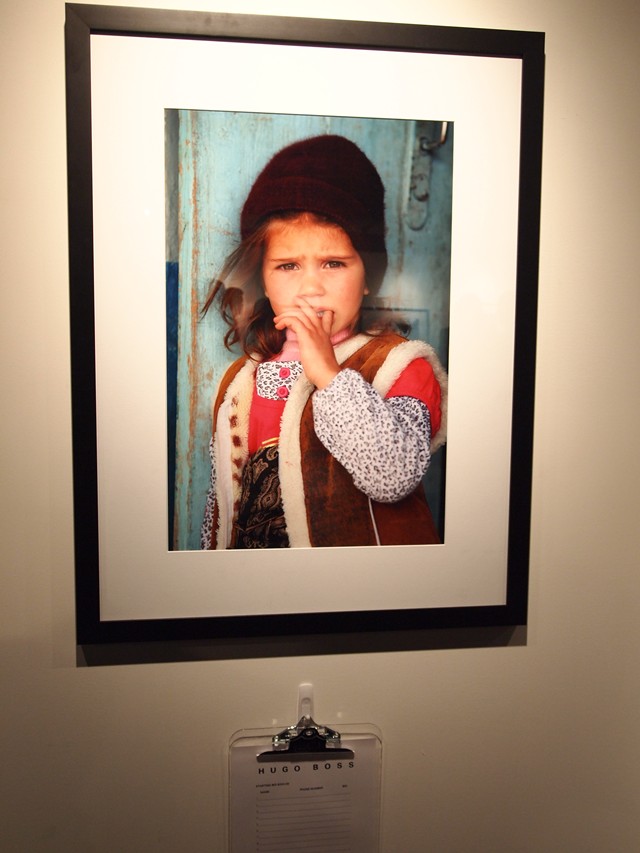 Right To Play – Azerbaijan, 2009 is Glen Baxter's exhibition for the Scotiabank CONTACT Photography Festival. I had no idea that Glen was a photographer. This is his fifth solo show with Scotiabank CONTACT. I just assumed he was always in front of the camera as the host of In Fashion and not behind. Glen traveled solo to Azerbaijan and visited the many settlements which host a million people displaced by war and conflict. Glen is auctioning off all 25 images in the show with 100% of the proceeds going to Right to Play. He has raised over $45,000 with his photography for Right to Play to date.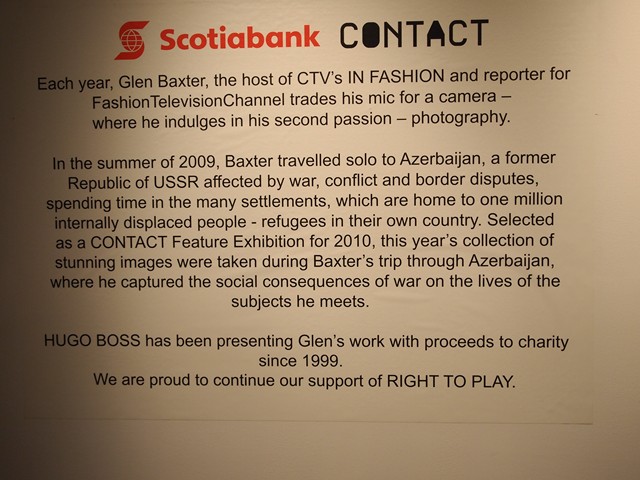 The show is in the 3rd floor event space in the BOSS store on Bloor street. It was my first time in the space and it's perfect for an art event.  There is lots of wall space and minimal obstructions in the middle of the room to allow for chatting and socializing without distracting those that want to stare at the photos.  I'm looking forward to attending more events there. I was for the media preview where the likes of Jeanne Beker, Lisa Tant, Greta Constantine and other Toronto socials milled about.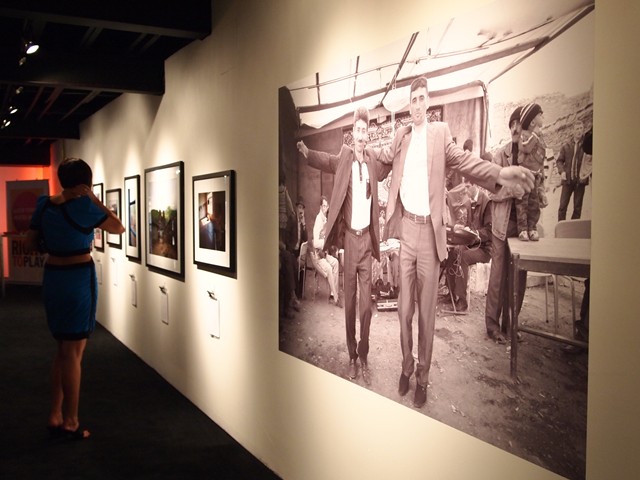 I talked to someone who is the owner of two of Glen's pieces. I can understand why he has an amazing eye. His portraits and landscapes are beautiful. Azerbaijan is a beautiful, green, mountainous country. Glen's human subjects mesmerizing whether they are dancing or sitting in a bathtub.
The show is open to the public and it runs from May 1–31, 2010.
Boss Store
83 Bloor St W
Toronto
Mon – Wed & Sat 10am – 6pm
Thu – Fri 10pm – 8pm
Sun 12 – 5pm
Disclosure: This one is a series of posts about the Scotiabank CONTACT Photography Festival. The organizers have asked me to share my experiences at the exhibits with you and get the word out about this event in exchange for fee. The Scotiabank CONTACT Photography Festival runs from May 1 – 31, 2010
CONTACT is an annual month long festival of photography with over 1000 local, national and international artists at more than 200 venues across the Greater Toronto Area in May. Founded as a not-for-profit organization 14 years ago, CONTACT is devoted to celebrating, and fostering an appreciation of the art and profession of photography. As the largest photography event in the world, and a premiere cultural event in Toronto, CONTACT stimulates excitement and discussion among a diverse audience that has grown to over 1.5 million and is focused on cultivating even greater interest and participation this year.(source)