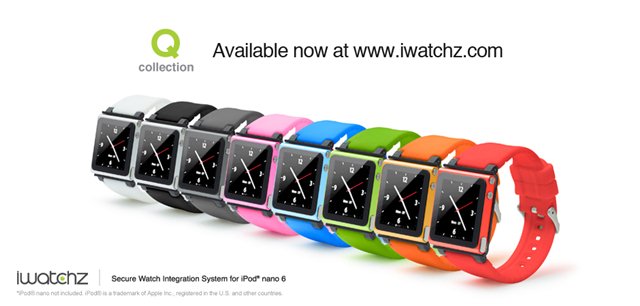 I get a lot of email and I'm not very good at keeping up on top of it. I get my fair share of  WTF and shady type emails too. I usually ignore these. Last weekend, I got a short and cryptic email about an amazing watch that I just needed to see. I would be getting a scoop and the company is Toronto based.  Looking at my BlackBerry Torch (Thanks RIM) I thought, Do I reply or not? I was very skeptical but my desire to reply for shits and giggles over took me.  Hell, I like watches too. We had a bit of back and forth with me blowing him off with each exchange. Then he dropped a name I knew. My bullshit filter dropped as I realized that we've met. It was during my trip to NYFW for the Spring 2008 collections. We were sitting in at the beautiful Four Seasons Hotel lobby drinking with his wife and The Oracle. I agreed to meet him to finally see this thing.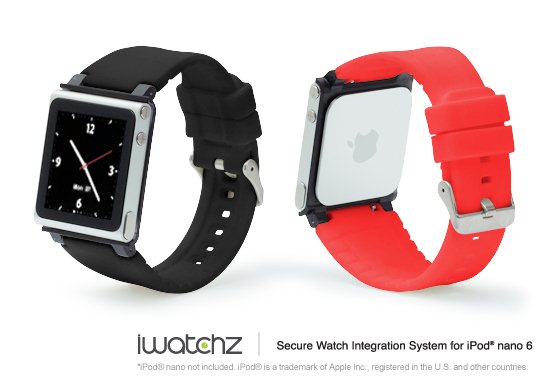 The thing is called iWatchz and it takes your 6th generation iPod nano and turns it into a wristwatch. I knew the product was Apple related as the email stated it would be for sale at Apple stores starting November 23. iWatchz isn't what I expected at all. It's a really neat product. It uses a clip system which they have patented and called nanoclipz that allows you to easily snap the iPod nano in place.  All parts of the device are accessible with this system. The Q Collection is the first line of styles. The nanoclipz attaches to a silicone band and comes in eight colours (black, red, white, grey, pink, blue, green and orange). The nano isn't included and the iWatchz costs $24.95 USD
"When we developed the nanoclipz system we had several goals in mind. The product had to be stylish, simple to use, affordable, and had to ensure the ipod nano would remain secure while still giving the user access to all the functionality of the device (earphone jack, buttons, and charge/sync port)"
I immediately loved the iWatchz, it's such a good idea. The name however I don't approve of. Too much i and z. The nanoclipz is very strong and keeps the iPod in place. I can see this being very good for rollerblading and skiing if I snake the core up an arm. They have a great selection of colours including my favourite orange. It's a good way to reduce the number of gadgets one carries around. I'm getting one delivered to me so I can test drive it out. Look to my twitter feed for twitpics and comments tomorrow.
I saw some samples of other watch band styles and heard about some interesting limited editions styles too. I'm looking forward to seeing how it the iWatchz sells during the holiday season.  I think it will do very well and the placement in the Apple Store is a real bonus.
images: courtesy of iWatchz