I received the Flora by Gucci Eau du Toilette in a swag bag from an event. I can't remember which one (If any friends out there remember what event, please comment!). I like floral based perfumes, so I thought I would give it a shot. Turns out I like it. It's sweet smelling; a mixture of fruit and flowers at first. It finishes with a heavy base. I don't normally like patchouli but it works for me in this combination. It's a girl's fragrance and nowhere near the androgynous zone. It's very strong and you have to remember that when applying. I do find myself reaching for this perfume a lot in the morning.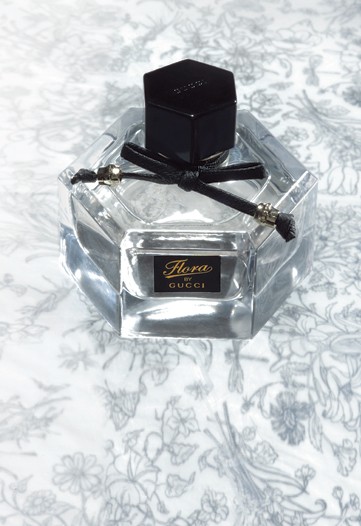 Flora's olfactory pyramid is composed around the floral theme, with top notes of citrus and peony, a heart of rose and osmanthus — a Chinese flower with a distinct floral fruit and leather aroma — and sandalwood and patchouli on the base. Giannini and the P&G fragrance team developed the scent with Firmenich.
This is Gucci's second perfume geared to the younger customer. I always love to read about inspirations.  I thought the perfume and the ads were beautiful.  I love the long black and white silk chiffon gown.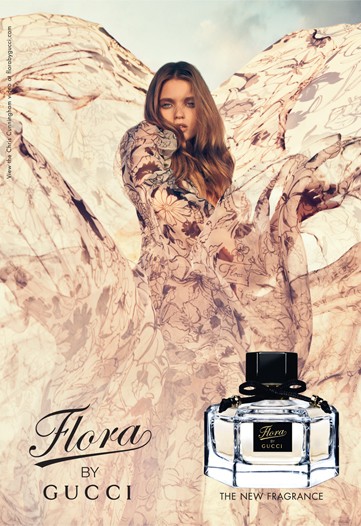 Turning to the archived Flora print for inspiration for the scent's concept came naturally to Giannini. First used on a Gucci scarf made for Princess Grace in 1966, Flora was also utilized on many different Gucci apparel and accessory items — some of which Giannini's mother wore.

"I was in love with the idea of a floral fragrance, and having the idea of naming the perfume Flora, everything was consequential. I wanted to give Flora a new freshness, so I decided to keep the same floral pattern but make it not so literal with all 25 colors, but black and white, more graphic and correct for the project," said Giannini…

To design Flora's hexagon-shaped clear glass flacon, Giannini recalled the architectural lines of the Gucci by Gucci bottle. Giannini also chose to accent the juice a champagne color and incorporated another of the Gucci motifs in the small bamboo gold tassels trimming the ends of the black ribbon bow tied around the flacon's neck.
The Gucci website says the font used to write Flora on the bottle is from the script of Guccio Gucci's signature. The commercial by Chris Cunningham is very cool.
The black-and-white Flora print is featured on the scent's packaging, but Giannini also printed it onto a butterflylike long silk chiffon gown worn by Australian model Abbey Lee in the scent's advertising campaign. Shot by Chris Cunningham in a cornfield in Latvia, Lee is depicted in the middle of more than 40,000 silk flowers moving in tempo with the wind to the tune of an original remix of Donna Summer's "I Feel Love." Inez & Vinoodh photographed Flora's print advertising visuals.
And her's the making of Flora commercial video for kicks.
I like Flora more than the Givenchy Hot Couture Eau du Toilette I received in a swag bag last year. Swag bags are the only reason I started wearing perfume again. I went years without it. I like Viktor & Rolf's Flowerbomb the best. I think Hot Couture, Flowerbomb and Flora are similar enough to make that kind of comparison.
All quotes are from WWD: Gucci Fashions a Flirtatious Fragrance
images: wwd.com