Oakley Frogskins Re-release Sunglasses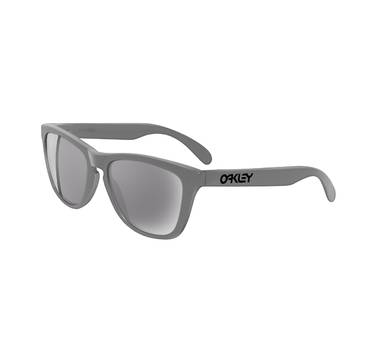 I had a pair of Frogskins in 1987, I loved them to death. I thought they were the coolest thing ever. They got scratched and then lost. They came back into my life in 2007 when Oakley decided to bring them back from the dead. I have to admit, I'm loving them to death all over again.
Be a part of our history with a new spin on a pop culture classic, the Oakley Frogskin®!

At Oakley, we've spent decades creating original works of art that reinvent both technology and style. To celebrate the rich history of our brand, we decided to re-release a ground-breaking style that can be traced back more than twenty years to our "garage" company roots.

First introduced in 1985 and originally available in over 50 colors, the Oakley Frogskin was a part of the 80's pop culture, a time like no other. Ronald Reagan was in the White House. "The Terminator" was in the box office and Run-D.M.C. was in certified gold. We have resurrected the original tooling from the early '80s to produce new limited editions, giving today's culture a chance to own a piece of history.

WHY NOW, IN 2007?

The answer is simple: sometimes, amidst all the Mad Science here at Oakley, we get to waxing nostalgic. So we wanted to give you a chance to channel a core piece of our brand, circa 1985. Far from just reintroducing an older sunglass model, this limited, tiered release applies to those who appreciate the fine art of innovation; people who are setting the pace in today's world of style.

For each original color combination of this coveted style, only 3,000 Collectors Editions will be produced. This is an opportunity to own a rare retro classic, and once supplies are gone, the window of opportunity will be closed forever!
There might be another pair at Ilori where I got mine. If you want to drool over expensive sunglasses, this is the place to be. So many gorgeous styles!!!!
95A Bloor Street West
Toronto
416-928-9385