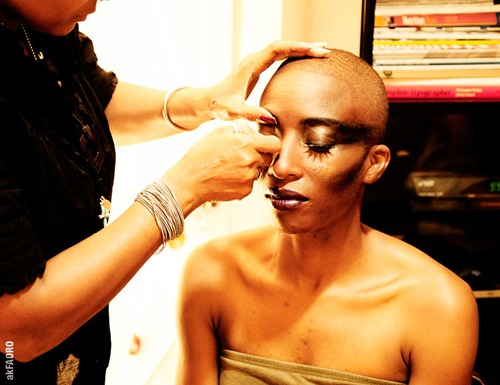 I got a phone called from Rea McNamara who wanted me to be part of her monthly fashion column for Toronto's Eye Weekly called Inspiration Point. The print version is available now, grab it (8/6/09 – 8/12/09). I've got some I want – I got exclusive outtakes from the Inspiration Point photoshoot to share with you all.
The concept: Wanted to not only celebrate Grace Jones' iconic style but also her impact as a transgressive performance artist who challenged racial and gender stereotypes by interrogating preconceived notions 'round the black body. Similar to Josephine Baker, Jones flipped the 'Black Venus' script by fucking with 'primitivist' ideas (ie. dark black female as animalistic, 'jungle' etc) in very much a postmodern context (by doing it herself, it became about empowerment). While I think it's GREAT that Jones was this big F/W 09 influence, her talent as a performer seems to be ignored. Stuff that I wanted include but couldn't: her mom was a seamstress that did handmade Givenchy patterns for Grace, her 1970s Paris modelling career (she and Jessica Lange and Jerry Hall were roommates when they strarted out) and her tendency to sometimes nog interviewers open-mouth.
I couldn't say no to channeling Grace so I got my haircut at Mike's Scissors (976 Bloor St W.) by Merv, my brother's barber. I was having a lot of anxiety about it because he wasn't my usual guy. Cecil is an incredible barber but he's out by Downsview way and he's popular. However, Merv did a great job and I provided him with pictures of my usual cut.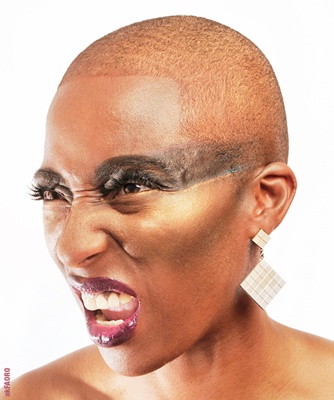 The makeup experience was interesting. I was exposed to the new generation of High Definition makeup from Kett. I found it a little strange that the day before I was checking out the story Hi-Def Makeup on style.com. Roxanne airbrushed my foundation on pretty heavily. Yes, that's right, I said airbrush. Kett Hydro Foundation is applied like a graffiti artist, it's pretty cool. She made me a number of shades darker. You can see the difference in skin colour in the last shot with the Pink Cobra vest on. It was pretty dramatic. The shot above is the one that was included in the print version.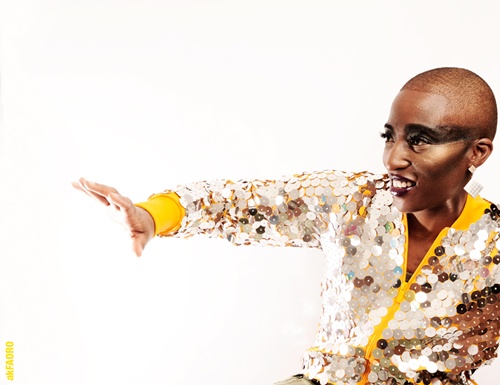 The false eyelashes where another strange experience. I was a fake lash virgin until this point. They felt really heavy at first, but then the glue dried and they were pretty light. For the next big event I go to I'm going to have to hit up the Shu Uemura counter at Holts. The price of lashes include free application.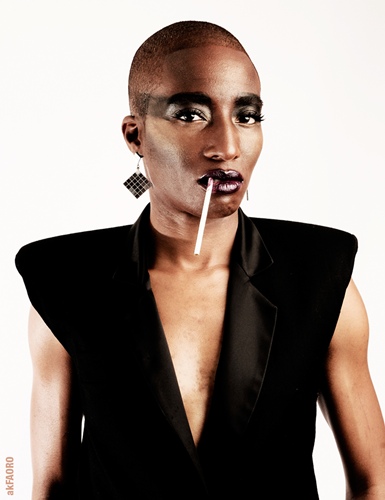 With this picture we tried to recreate the Slave to The Rhythm album cover. Since I'm not a smoker I couldn't get it to dangle correctly. And of course, here is the video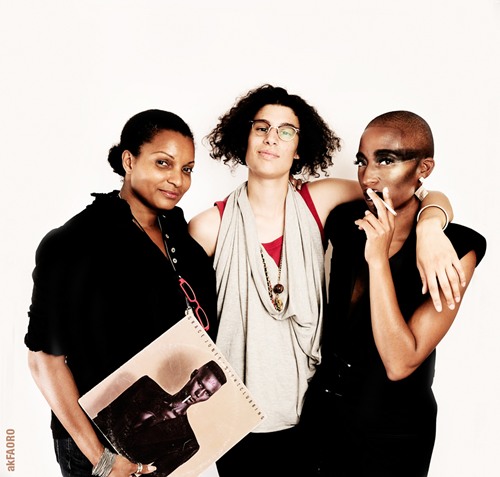 Credits: Make-Up Roxanne DeNobrega – twitter, Photography Alyssa Katherine Faoro, Writer+Direction+Styling Rea McNamara –twitter
If you're in the mood for Grace inspired fun check out Bang The Party. It takes place every second Sat of the month at The Boat with DJs Todd-Rodd Skimmins and Andy Capp (Gang of Two).
Look for another editorial featuring Rea, Roxanne and Alyssa in the upcoming Fall Winter issue of Worn Fashion Journal. Alyssa and Rea collaborate on Century 66, a storytelling project exploring the closeted history of Toronto fashion.
One more video, Pull Up to My Bumper

All Hail Grace Jones!!!
Fritz Helder & The Phantoms and Fashion Cares Presents: Platinum. Fritz Helder & The Phantoms are creating a fashion frenzy with PLATINUM – a special project to help raise funds for ACT (AIDS Committee of Toronto).

Combining their loves of music, art and fashion, FH&TP have teamed up with Fashion Cares, ACT and 10 very talented designers to create special edition Fritz Helder & The Phantoms concert merchandise to be auctioned off on May 22, 2009 at "Platinum (LIVE)" in Toronto to celebrate the release of their upcoming album, "Greatest Hits: Platinum Edition" on newly formed label, NELSTAR Music. Proceeds from the sales of the limited edition designs will go to Fashion Cares / ACT!

Check out the designs from Greta Constantine, Jeremy Laing, Nada, Oligarchy, Pink Cobra, Evan Biddell, Label, Franke for Chasse Gardée, Jaime Galindo and HOI BO. All modeled by Fritz Helder & The Phantoms.

It's a way to show off the great work of Fashion Cares/ACT as well as their on-going relationship with the fashion and music communities.
These one of a kind pieces are available for purchase, please contact info@fritzhelder.com.
See the complete lookbook shots in the slideshow, I've only posted my favourites.
If you are interested in purchasing any of these limited designs please contact info@fritzhelder.com
images: Photos by Justin Borbely courtesy of Fritz Helder & The Phantoms