I went to the Toronto Meets Tokyo Shu Uemura event at Holt Renfrew a couple weekends ago. I was treated to a make up application that included Shu Uemura lashes. I was going to find out why these lashes are so raved about.
TORONTO MEETS TOKYO shu uemura will come to life this Saturday at Holt Renfrew; our principal makeup artist Taca Ozawa will be there to complete artistic makeup for the women who dare to try! Lashes application will be offered, as well as sketches done by a Japanese Manga Artist. The event will take place in the centre court at Holt Renfrew, with models dressed in kimonos and made up with artistic makeup.
Taca Ozawa wasn't my makeup artist. Stupid me didn't ask/remember her name because I loved what she did. I chose something pretty simple for lashes. The Luxe Black style were huge but not over the top. I didn't feel like feathers or sparkles at the time.
Inspired by the mink false eyelashes custom-ordered by celebrities, this synthetic version features a criss-crossed design to provide the most voluminous lashes. Thicker at the roots, it tapers at the tips for luscious-looking lashes with a defined eyeline. May be worn at full-length for intensity; trim to half-length for an extra lift to the outer corners of the eyes.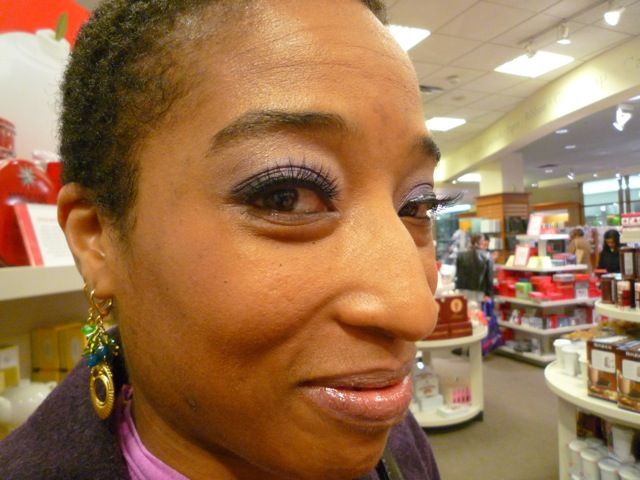 You can see the glue in these pictures as there were taken right after the application. The glue dried clear by the time I left for the amazing Christmas party that evening. The makeup was pretty simple: blush, eyes, light foundation for sparkle, and nude lip.
I kinda like the nude lip and I picked up the lip stick and gloss that made it possible (Rouge Unimited BG958 and Gloss Unlimited BR750S).  The lashes were durable.  I was worried about losing them to the wind on the walk over to the party.  They stayed in place and remained that way until I peeled them off at the end of the night. You don't forget you are wearing them but they look amazing.  Not too over the top looking straight on however, the side view is ridiculous.
I'm told they are reusable so I'm going to have to attempt application at home.  If you buy Shu Uemura lashes from Holt Renfrew it includes free application.
EDIT (Dec 22, 2009): I forgot to say thank you to Isabelle from L'Oreal Canada who made this story possible with the complementary eyelashes.