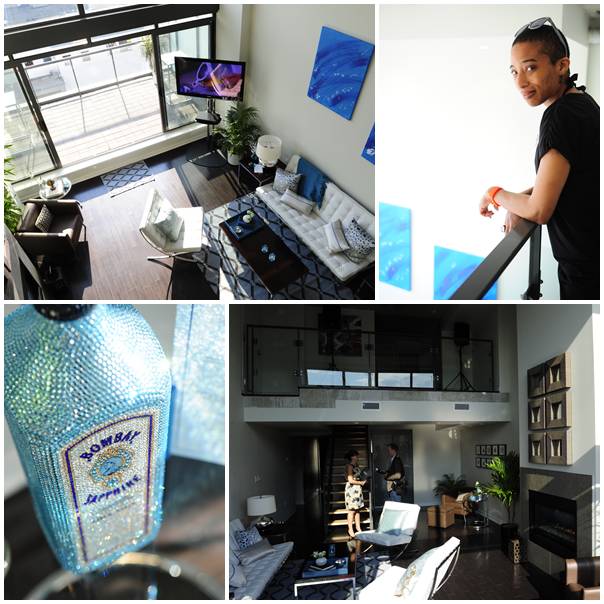 Food and drink based events make me excited. They have introduced me to new new scotchs, beers and vodkas. Last year, I attended a Bombay Sapphire food and drink pairing event in Rosedale. It combined education about summer entertaining and a voyeuristic peak into the former home of Ted Rogers.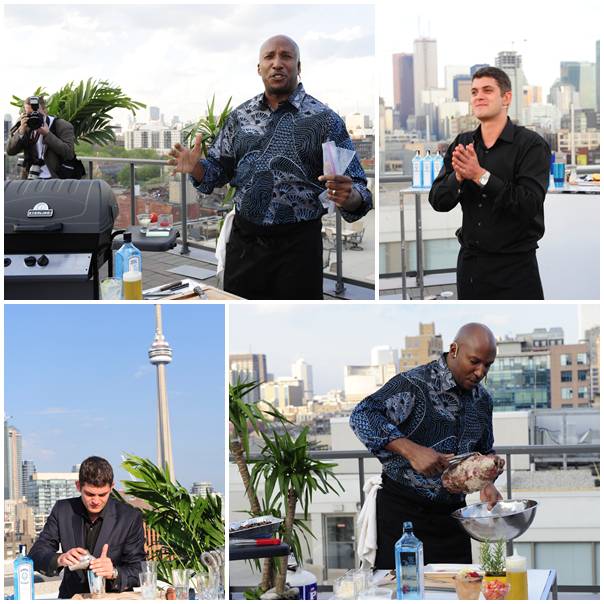 For this year's event, Bombay moved the venue to the penthouse of 533 Richmond Street West. Merlin Griffiths, Master Mixologist and Bombay Sapphire Global Brand Ambassador was back to show us new drinks and celebrity BBQ master, Chef Rob Rainford.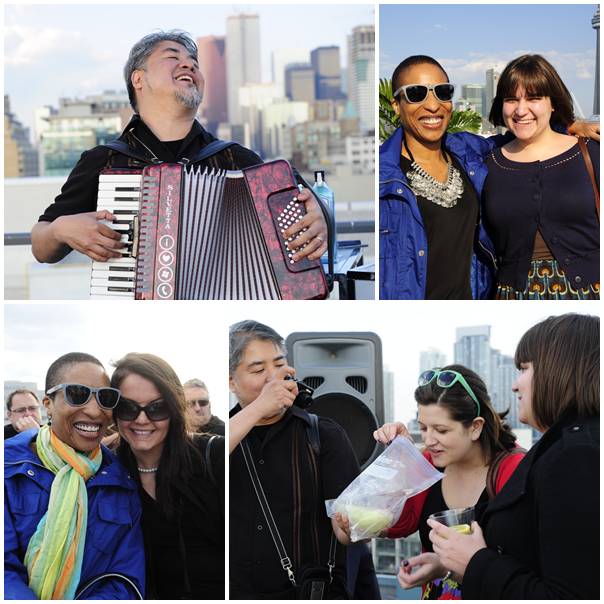 The penthouse of 533 Richmond Street West is pretty stunning. It has the whole rooftop as a terrace. The views are spectacular and probably will stay that way for a few years as everything is pretty much developed around it. The unit itself has two levels and an additional balcony on the first floor.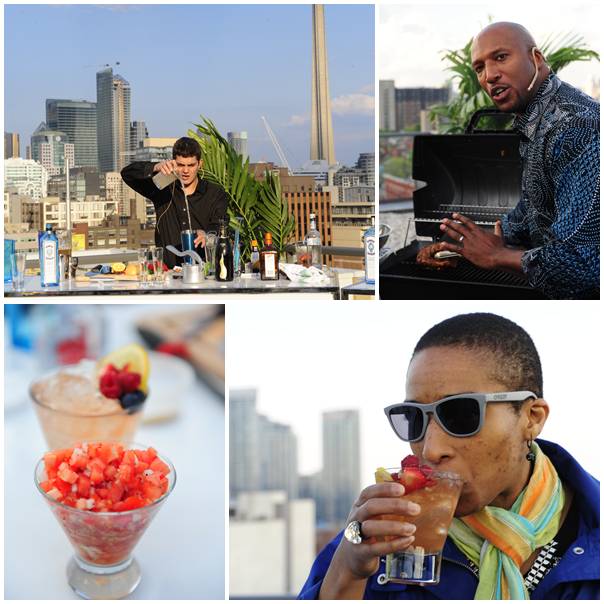 Chef Rob Rainford created some really tasty dishes for us. It wasn't vegetarian friendly for the most part but the SAPPHIRE Salsa Fresca and the Honey Dew Melon Soup were delicious. The grilled lamb and steak were heaven in a bite and very simple to make. I've included both Rob's and Merlin's recipes after the jump so you can try them out.
See all the photos from the event.
SAPPHIRE® SOUTHSIDE
Ingredients
1.5oz BOMBAY SAPPHIRE gin
1 oz Freshly squeezed lime juice
2/3 oz Sugar syrup
(2 parts sugar: 1 part boiling water, stir until dissolved and chill)
8-10 Fresh mint leaves
Top with Soda water
Method
Add all except the soda to a mixing glass with lots of ice. Shake very hard to bruise the mint and release flavour and strain into a glass filled with crushed or cracked ice. Top with a dash of soda and garnish with 1 large mint sprig, lime slice and 2 long straws.
Mixology Tip:
Crushed ice should completely fill glass, top to bottom, creating a super-chilly drink resulting in
ice forming on the outside of the glass.
Grilled Tri Tip Steak Original Recipe by Chef Rob Rainford
Ingredients
1 ½ lbs. Beef tri tip steak
2 Tbsp Olive oil
1 tsp Chilli powder
Kosher salt, to taste
Black pepper (freshly cracked), to taste
Marinade:
4 Tbsp BOMBAY SAPPHIRE gin
4 Tbsp Olive oil
4 cloves Garlic, sliced
½ Onion, sliced
1 Orange (zest only)
The Rainford Method:
In a self-sealing plastic bag, combine the BOMBAY SAPPHIRE, olive oil, garlic, onion and orange zest to make the marinade. Place the steak in the bag and marinate in the refrigerator overnight.
Preheat your gas or charcoal grill to medium, approximately 350ºF (180ºC).
Bring the tri tip steak up to room temperature and pat dry any excess marinade using paper towels. Season it with olive oil, chilli powder, salt and pepper.
Place the steak over direct heat and let sear for 5 minutes, and then move it to the indirect heat for 15 to 25 minutes.
For best results, remove steak from the grill when the meat reaches an internal temperature of 125ºF (52ºC).
Note: If you prefer to cook your steak longer, keep in mind that the meat will get tougher the longer it stays on the grill. Serves 4
SAPPHIRE® SANGAREE
Ingredients (Makes 4 cocktails)
4 oz BOMBAY SAPPHIRE gin
2 oz Ruby Port
2 oz Cointreau Liqueur
3½ oz Lemon Juice
Lemon slice, seasonal berries and mint leaves for garnish
Method
Into a chilled pitcher, add the lemon juice, orange liqueur and BOMBAY SAPPHIRE and stir to mix. Pour into rocks glasses filled two thirds full with cracked ice* and gently drizzle ½oz of ruby port over the mixture. Finish the cocktail with a thin shimmering layer of cracked ice and ornament with a lemon slice, seasonal berries and clutch of mint leaves.
Mixology Tip: Cracked Ice
Take a large zip lock bag and fill ¾ full with ice, and then fold a tea-towel (cloth) around the bag. Take a rolling pin or muddler and firmly, but not furiously, crack the ice with smart firm taps. The ice should reduce to popcorn-sized pieces; this improves dilution, chilling, and appearance for "sip and stir" style drinks.
SAPPHIRE® Leg of Lamb Original Recipe by Chef Rob Rainford
Ingredients
9 lbs Leg of lamb
2/3 cup BOMBAY SAPPHIRE gin
1/3 cup Olive oil
1 Onion, chopped
1 Tbsp Juniper berry, crushed
8 cloves Garlic
2 Tbsp Rosemary
The Rainford Method:
To make the marinade, combine BOMBAY SAPPHIRE gin, olive oil, onion, juniper berry, garlic and rosemary in a blender. Puree and liquefy. Place leg of lamb in the largest bowl you have. Coat with marinade, cover and refrigerate for 24 hours. Remove leg of lamb from fridge and bring to room temperature. Fire up your charcoal grill or gas BBQ to medium-high heat — approx. 350ºF (180ºC).
Reminder: You'll be using indirect heat to grill your leg of lamb. Remove leg of lamb from the marinade, discarding leftover marinade. Use a paper towel to gently pat the extra marinade off the leg. Sear the leg of lamb on direct heat until you have achieved a dark brown color. Then move the lamb to one side away from the direct heat and close the lid. Be sure not to peek too much
because each peek drops the temperature inside the grill.
Note: Be sure to use a drip tray directly under the lamb when it's on the indirect side of the grill. This will insure the drippings do not make a mess of your grill. For a special touch, add a little BOMBAY SAPPHIRE gin and water to the drip tray to infuse the steam inside the grill with flavour.
Your lamb will be cooked when you reach internal temperatures between 140-150º F (60-65ºC).
This dish goes especially well with SAPPHIRE Salsa Fresca, but the options are endless.
Serves 10-12
SAPPHIRE® Salsa Fresca Original Recipe by Chef Rob Rainford
Ingredients:
2 Tbsp Peeled white onion, cut into ¼ inch dice
8 pc Plum tomatoes, cut into ¼ inch dice
1 pc Serrano chilli, seeded and cut into ¼ inch dice
1 tsp White sugar
1/4 cup BOMBAY SAPPHIRE gin
1 tsp Kosher salt
1 Tbsp Fresh lime juice
The Rainford Method:
Place the onion in a strainer, rinse with hot water, and drain. Combine all ingredients in a mixing bowl and mix well. Chill in the refrigerator for approximately 30 minutes to allow the flavours to combine. Note: Add a little more sugar if the tomatoes are acidic but not so much that the salsa begins to taste of sugar. Serves 8
SAPPHIRE® BARCELONA
Ingredients (Makes 4 cocktails)
6oz BOMBAY SAPPHIRE gin
3oz Fresh grapefruit juice
2oz Fresh lemon juice
3oz Simple syrup (2 parts sugar to 1 part boiling
water)
8oz Prosecco
Lemon and Grapefruit twist garnish
(If available a single lozenge/column of hand-cut ice)
Method
This drink uses a special technique called "Rolling" created at Boadas (bow-ah-dass) in Barcelona, Spain to reduce the fizz and chill the drink perfectly. The true Boadas Roll is an elaborate affair with much showmanship; but the technique can be adapted for everyday use if you have a shaker, strainer, or small jug. Put aside half of the prosecco for later use. Add the remaining prosecco plus all the other ingredients to a jug and fill with ice. Prepare your garnish and glasses, to be ready to serve. Take the empty shaker tin (or another jug) in your left hand, and the full jug and strainer in your right hand (reverse if you are left handed) and pour the mixture into the empty jug all the time raising the jug quickly up to 2 feet high so the mixture aerates properly. Decant the mix back
into the ice jug and repeat. Do this 3 to 4 times to ensure the cocktail is mixed, aerated and chilled sufficiently. Pour the liquid into 4 champagne flutes. Top each flute with the remaining prosecco for extra fizz and garnish with lemon and grapefruit twists.
Mixology Tip:
For larger parties chill glasses with ice, or keep glassware in fridge or freezer
Honey Dew Melon Soup Original Recipe by Chef Rob Rainford
Ingredients
Alder wood chips, presoaked for a minimum of 2 hours
1 Honey dew melon, cubed and peeled (approx ½ cup)
1 cup Pineapple juice
1 Lemon (juice only)
1 Lime (juice only)
6 pc Basil leaves, chopped
3 Tbsp BOMBAY SAPPHIRE gin
4 Tbsp Simple syrup
The Rainford Method:
It's time to get your charcoal grill or gas BBQ ready for smoking.
• Charcoal grill: Using your chimney starter, light the coals. It should take you around 15 minute to light 15-20 pieces of lump charcoal. Once the coals are lit, add 2 handfuls of soaked alder wood chips directly to the coals. This will give you big smoke. For the flavor profile required, you only need to smoke for 15 to 20 minutes.
• Gas BBQ: Prepare smoke pouch. Place 8 cups (2 liter) of alder wood chips into a bowl of cold water to soak for 1 hour. Reserve 4 cups (1 liter) of dry wood chips. To build a smoke pouch, drain 2 cups (500ml) of the wet wood chips and squeeze excess water out. Spread wet wood chips on a large piece of aluminum foil. Place 1 cup (250ml) of dry wood chips on top. Mix them together. Close the foil around the chips to make a sealed foil package. Use a fork to puncture holes in the top and bottom of the foil pack to allow the smoke to flow through and infuse the meat. Repeat to make 4 pouches. Place the smoke pouch on the side of the grill with direct heat.
To prepare the Honey Dew Melon Soup, place your halved and peeled honey dew melon on the indirect heat side of your smoker or gas grill. Allow the smoke to do its work and envelope the cavity of the smoker or gas grill. After the desired time (15 to 20 minutes), remove the honey dew from the grill. Cut the honey dew into bite size pieces and liquefy it in the blender on high speed along with the pineapple juice, lemon juice, lime juice, basil, simple syrup and BOMBAY SAPPHIRE gin.
Note: For best results, let this mixture to sit over night. This allows the flavor of the gin to flourish.
Serve BOMBAY SAPPHIRE gin Honey Dew Melon Soup chilled with a dollop of Lime Sorbet.
Serves 8
Photos Taken by Paul Baik for I want – I got www.paulbaikphoto.com