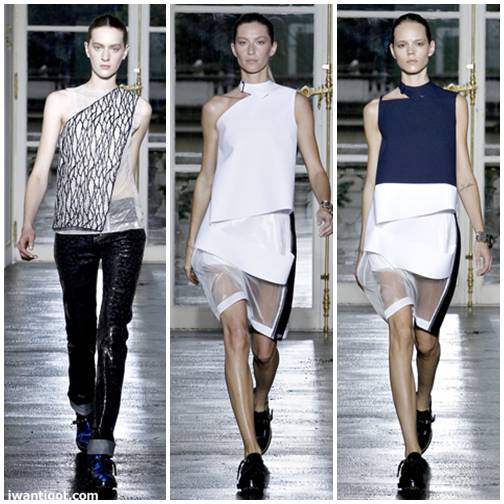 I'm usually a solid Balenciaga fan but the spring summer 2011 collection made me think. There was no immediate reaction of adoration for the clothing. I wasn't a big fan of the first half of the collection but liked the second. It's taken me a bit of time to absorb what I've seen. This rockabilly version of Balenciaga has me loving classic things like pants and that printed denim.  They look so roomy and comfortable.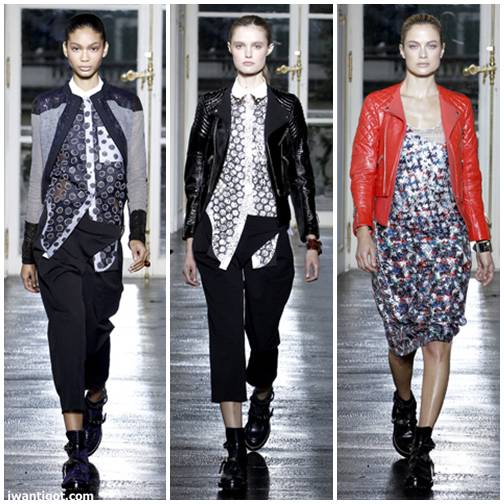 There are also some sweet little jackets in the collection.  I'll take a red leather Balenciaga coat please.
Balenciaga also introduced watches this season which were inspired by an antique clock in the atelier.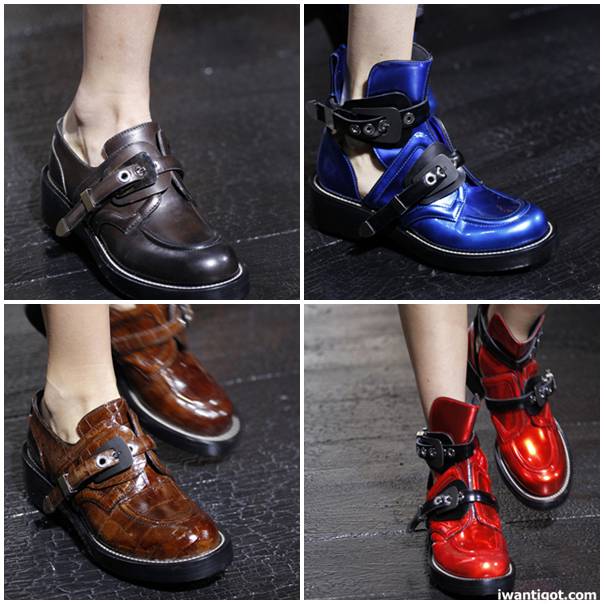 I did have an immediate reaction to the shoes and that was love. It's apparently the first time Ghesquière has show flats at Balenciaga. Shoes like this remind me of my first pair of Dr. Martens. They were low cut, pointy toe, black patent leather creeper like shoes. I loved them to pieces. I love the visual of the shoes and that crazy floral denim. The pants are perfect for the Balenciaga Spring Summer 2011 shoes.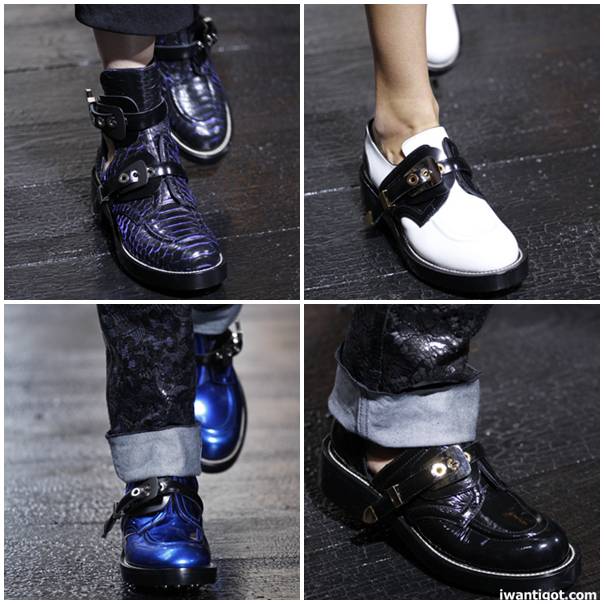 WWD.com has some great quotes that speak to the fabrics and construction of the collection.
Thick, molded leathers were lacquered with exaggerated houndstooth patterns in graphic red, black, white and blue. There were shrunken tailored blazers and men's wear shirts with metal-tipped collars worn with square-cut, cropped trousers with hard-core grommet belts and variations on the classic men's creeper with studded soles.

In terms of fabric development, Balenciaga is the textile geek's promised land. Everything is treated, coated, lacquered and painstakingly manipulated, often by hand. Ghesquière explained that the leathers were embroidered with PVC for a faux-on-real treatment; knits coated with brushed silk, and the finale dresses worked with a sheer layer that looked like coated wax paper.
See the full Balenciaga Spring Summer 2011 fashion show
images: style.com