Chemistry book bag by Rebound Designs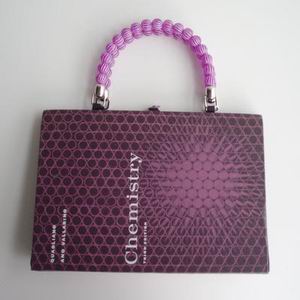 I already have one book bag from Caitlin, The Decline and Fall of the Roman Empire. It was love at first sight, well almost. I really wanted The Odyssey or The Iliad, but alas they were not available. Old hardcover books are reworked into beautiful handbags. Caitlin has a good FAQ for those that are interested in her book bag making process.
Items are always changing on her site, so keep checking. Chemistry is still available but gems like Great Expectations, Calculus and The Hitchhiker's Guide to the Galaxy have been bought up. These one of a kind items are only available online.
[tags]handbags, rebound+designs, shopping, vintage, fashion[/tags]