I'm not a Marc Jacobs fan to be honest. Some of the LV monstrosities are just too much for me. So much so, that I don't even get around to looking at his other endeavors. I didn't like his Fall 2007 LV show much when I saw it on style.com.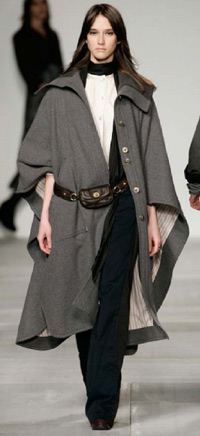 This picture from the spring show doesn't do anything for me. I write it off as more over-sized shapeless blah. It's weird though, I saw this Marc by Marc Jacobs cape in person recently and it gives off a totally different vibe. I loved it. Holt Renfrew has it on a third floor mannequin and it looks fantastic. It even looks good on the hanger.
I'm into the cape this fall. I might even break out the vintage one I bought years ago but never use. I call it my Sherlock Holmes jacket because it reminds me of something he would wear. It's nice that it's in style now.
I didn't like the Marc Jacobs Fall 2006 collection too much and Spring Summer 2007 is just a pleated awful mess.