I'm really new to the services a shoe repairman offers as I've never really used them. I didn't realize their power until I decided to sell these beautiful Nine West platforms I own.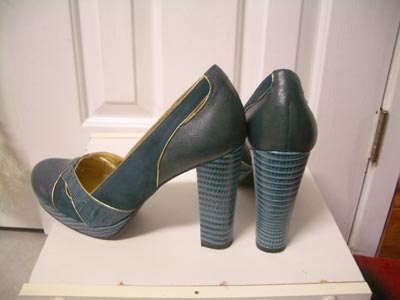 Aren't they awesome? You could imagine how heart wrenching the decision to sell them was. They were just too damn tight in the toe area. I have a high tolerance for pain and I couldn't fight through wearing them. Brand freaking new, I had worn them twice. TWICE!!! I was so disappointed.
Thank god for MJ. He asked me why I was selling those beautiful heels. This statement was like salt on the wounds. When MJ likes something, I know without a doubt that it's hot. Hot as term has forever been tainted because of that damn Paris Hilton. It's such an accurate description. Damn Paris Hilton and those shoes, they were slipping through my fingers. I was getting angry again when MJ says, "Are they too short or is it just tight in the toe area? You can get them stretched you know?" I never heard of this before. My god, I will get to keep them after all. YAY!
I finally took my heels to Kaner's in Yorkville. MJ told me that they are one of the best shoe repair shops in the city. It worked like a charm, the shoes are much roomier. My heels are leather so they can be stretched.
They also fixed the heel stop on my Sorina mary janes. I initially took them to a shop in the Path and they didn't know how to repair a shoe at all. The heel is made out of plastic so it needed glue and nails. I asked the guy to do whatever it takes to get that stop to stay on, he's the shoe expert right. It was nailed only and came out right away. I was pissed. Kaner's all the way. They also do handbag repair.