I was asked to preview the new Motorola KRZR and since I love to give my opinions to whoever will listen I said yes. 🙂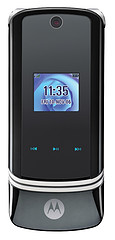 I met with Ian from Hill & Knowlton to pick up the phone. He handing me this snazzy metal briefcase. Jesus, I said, am I on some kind of secret mission. The photo below was taken with the KRZR.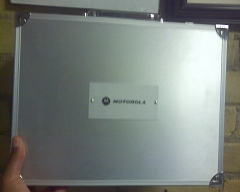 Not bad at this size.
I'm a Moto Q user so I'm not loving the phone as much as I would like. I really miss my email access :(. I said I would use the KRZR so I bit the bullet and switched the handset yesterday. Yes, that's email withdrawal in less than 24hours. I'm pathetic. If I wasn't already spoiled with a smartphone I think I would love the KRZR.
I'm still getting used to the phone. Uploading my contacts, calender and tasks was super easy thanks to Windows XP and Outlook. The MP3 player function is what stands out to me from my initial usage of the phone. It kicks the Moto Q's ass, which uses Windows Media player which I'm not a big fan of. The music quality is amazing and it has good volume levels. I got an adapter in my package and I was able to use my Shure headphones to listen to music, it was heaven. I like the external music navigation buttons, but I wish there was some kind of lock function to prevent accidentally hitting the buttons.
Next steps is getting my Mario Bros ringtone on this thing and making my own. Yes, the KRZR comes with Ringtone making software. I've got some music that would be awesome, Madvillian, Bjork, Goldfrapp. YAY!
PS – There is a white one too.
I'm having a hard name with this KRZR name thing. I had to go through this post and correct all the times I wrote KZRZ instead, bah.
images: krzrbloggers.com