I've been meaning to do another post about my adventures with the KRZR for a while, but things would come up.
Fashion and the Mobile Phone
I'm going to start with a response to the question posed by my KRZRblogging friend Sonja from TorontoStreetFashion.com. She asks "Are mobile phones a fashion or in fashion? Do you think people notice your phone at all?"
When it comes to mobile phones I'm a function over fashion girl. It's a tool not a dress. People do notice mobile phones even in Canada, I'm guilty of it too, but it's usually more from a technology standpoint than a design one.
Software
I made a comment about the KRZR software that is totally incorrect. It truly sucks. It's beginning to remind me of my battles with my Sony MD player software back in the day. I have a couple questions for the software designers.
1. Every time I connect the phone to my computer I'm prompted to install the Motorola USB Modem software. Why is this?
2. Why must you add so much bloatware to your software? I don't care about a spash page nor do I care for your graphical display.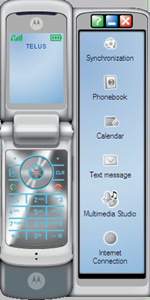 I can just imagine the development and testing that went into this GUI when real problems like the USB Modem software are left. I don't even understand the point of this display and why it couldn't be incorporated in the main working window that displays when you click the icons on the phone. I can only compare this to my Moto Q and the software is way superior.
3. Why is your software so slow?
Pictures
The lack of flash really hinders this camera but I was finally able to get some decent shots out of it.

Things I need to try still
1. Connecting to my computer with bluetooth.
2. Creating my own ringtone with Melody Maker.
3. Creating a video.
I wish I got my hands on this Krzr.