I saw Eleven Minutes with Danielle during Hot Docs. It was the night of the TTC strike to be exact.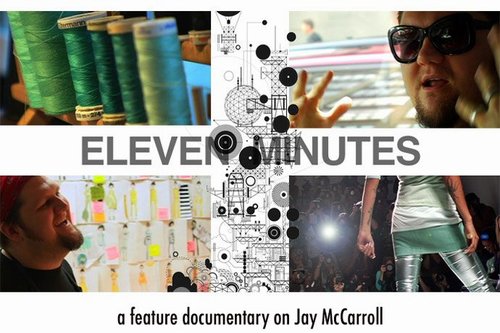 This feature documentary follows fashion designer, Jay McCarroll's year-long journey designing and preparing his first independent runway show and selling of his clothing line to stores after wiining the first season of Project Runway. This in-depth, raw and humorous documentary explores the conflict of balancing commerce with art, fame with talent, and reality-TV with actual reality.
It was an excellent movie. I think anyone who really wants to be a designer should see it. It's stripped down and raw, there is no glamorizing of his whole ordeal. It was funny as all hell and Jay had me pissing my pants. I also loved the crazy PR lady that everyone was afraid of. It's a real emotional rollercoaster from beginning to end. I definitely recommend it to any fashion fan or curious bystander.
The Toronto Fashion Incubator is sponsoring a screening of Eleven Minutes on Tuesday, June 17 at 7:00pm in Theater 222, Innis College, 2 Sussex Avenue, U of T Campus, one block south of St. George subway station. Tickets are $8 – – TFI Members & Fashion Design Students get in for $5.
Simply go to Main Programming B, Tuesday 7:00 PM. Click on "Organizations" to buy your advance ticket using most major credit cards. Tickets will be held at the door. Last date to take advantage of this special offer is May 30, 2008.