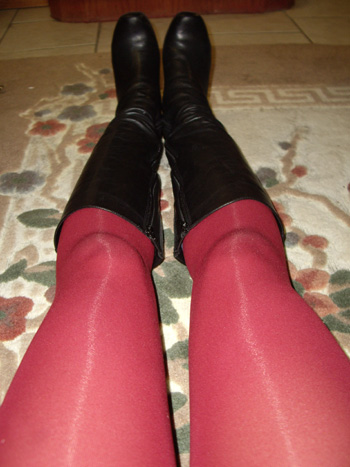 Ashworth Associates sent me a Secret package. I've been trying them out for this post. The package included items for the Secret Slimmers shapeware line: thigh & tummy shaper panty, high waist shaper panty and the tummy shaper pantyhose. They also included a pair of red leggings (pictured) and patterned black tights. Almost all of the items were in black, the high waisted shaper was nude. Ashworth Associates gets a check in my good books. There is nothing more disappointing than receiving nude hose.
It may surprise some but I'm a fan of shapewear. For some items of clothing, it can really clean up a silhouette (hello, unforgiving jersey). I have a pair of skinny black dress pants that I won't wear without it. It's not about losing inches, it's about smoothing. I've bought Nancy Ganz shaperwear in the past and it's not cheap. Secret's offerings are at least reasonable at $9 – $25. I've never purchased pantyhose from Secret before so I wasn't sure what to expect.
I now swear by their tummy shaper pantyhose. I don't sheer hose that often, things are completely opaque or patterned to the hilt in my closet. The waistband stayed put for me and that was fantastic. You'd think that because it's a tummy shaper it would be uncomfortable but it wasn't constricting. I forgot I was even wearing them, they were like a second skin. The thigh & tummy shaper panty fit well and was comfortable enough to wear all day. It didn't shift around and did a very good job of keeping itself out of my mind for the day.
The leggings weren't 80 den weight like I'm used to but they are great for wearing in the spring and fall. I don't say summer because I don't wear leggings without my boots. I hate leggings. I only buy leggings because they have colours I really want.
I wasn't a big fan of the high waist shaper panty. It covers you from the top part of the thigh to under the breasts. The waist band on this one rolled on me occasionally. I'm going to give this one another shot to redeem itself when I break out the white dresses this summer. Underwear and white clothing is always a nightmare.
Secret has won me over, it's a good alternative to more expensive options out there. I will be looking for more of their tummy shaper hose for sure.
geekiviews on I want – I got is always looking for products to review. Think your product has the stuff that impresses me then contact me and let's talk.