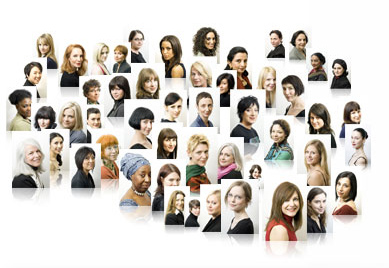 I was lucky enough to be approached for the Toronto's Mille Femmes project by Pierre Maraval and it's pretty freaking cool.
French artist Pierre Maraval calls his photo exhibitions "human landscapes", each a collection of 1,000 portraits of individuals linked by a common characteristic or shared passion. Athletes, AIDS workers, Internet pioneers, and women from some of the world's greatest cities are among those whom Maraval has celebrated since he began his project in '93. Now he turns his lens on Toronto and the women who enrich the city's flourishing cultural scene through Toronto's Mille Femmes.

Toronto's Mille Femmes is a tribute to one thousand artistic, creative and inspiring women from Toronto and their protégés, who embody the passion and heritage of the city. Architects, actors, dancers, designers, journalists, musicians and others have been chosen in recognition of their achievements and leadership in their field. Once joined together, the 1,000 portraits will become a visual network, a chain of recognition that celebrates not only an extraordinary community of women, but also the creative character and diversity of Toronto.
Now my portrait is hanging in Brookfield Place for everyone too see. I even like the photo.
Toronto's Mille Femmes
Till June 15, 2008
Allen Lambert Galleria,
Brookfield Place (formerly BCE Place)
161-181 Bay Street
Toronto