I'm pissed off with the Gap right now. If you shop there regularly, you know that sometimes you will get a survey request and in return you receive 20% off regular priced merchandise. I've been told by Gap employees that this feedback is very important to the stores and that my information is valuable, hence the discount for completing the survey. Apparently, head office doesn't think so.
I decided I was going to use my 20% off to buy one of the Designer Collection white shirts. I even stood in line to try the damn thing on and stood in line to pay for the thing, only to be told, very nicely btw, that that discount is not valid for the shirt. I was pissed, but didn't take it out on the poor gay boy behind the counter but what a waste of my time and effort.
I've attached a copy of the receipt to make a fucking point. There is nowhere on this receipt that lists the restrictions on what you can't purchase, all it says is regularly priced merchandise. The shirt was not on sale. I probably really could have made a stink about it in the store and gotten the discount, but I'm not like that. Besides this blog has much farther reach than a few people hearing me chew out some poor slop that is just doing what they told him to.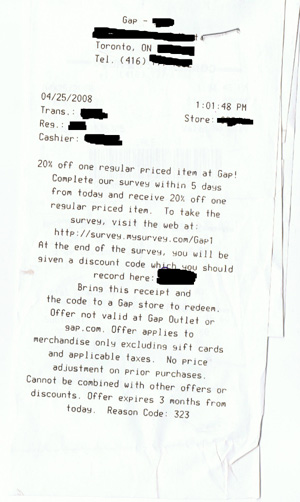 You see, no restrictions listed.
I will never fill out one of these surveys again.