Sometimes readers ask me questions. If they are of value to all my readers I post them online. If you have a question, please feel free to submit it using the contact form. I'll definitely do my best to answer it.
I want – I got reader Jo wrote:
Hi there,
I was wondering if you have any tips for petite clothing. I'm really struggleing to find work cloths even banana republic petites don't work for me. Any suggestions for stores or particular styles would be great!
I don't know a thing about petite clothing to be honest. I'm 5'5″ myself; just over the hump. I know the perfect site and person you can contact who has a whole ton of experience regarding the subject.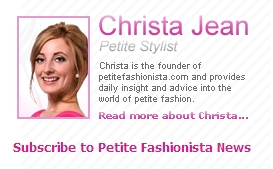 It's Christa Jean at Petite Fashionista
The site has tons of advice and she also takes questions. She also organizes sales and events geared to petite women.