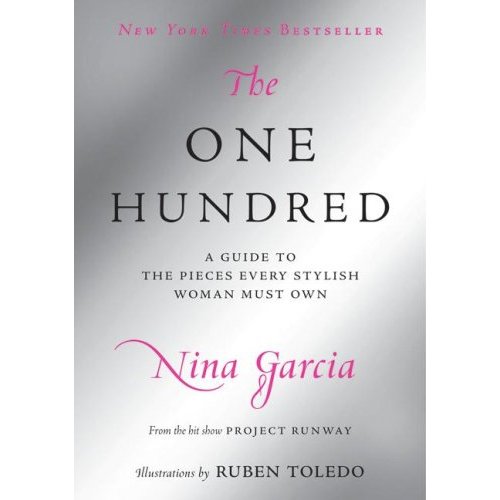 Melissa from Harper Collins send me the new book The One Hundred: A Guide to the Pieces Every Stylish Woman Must Own
by Nina Garcia and illustrated by Ruben Toledo. Regular readers will remember that I review Nina's other book, The Little Black Book of Style a while back.
Nina decided to write the book because she is always asked what are the classic or must have pieces necessary for one's wardrobe. So she put together a list of things she simply cannot live without. She goes on to say that this list isn't the be all or end all and that a lot of self editing should be applied for your own personal style. She says the list is a guide and contains items that have lasted throughout the years. Nina always stresses the individual aspect of style in all her books and I appreciate that from her. It seems she not interested fashion clones.
The book is beautifully illustrated of course. What I love about The One Hundred is that it's full of illustrations. Each item gets the Ruben treatment and the reader also is treated to full page illustrations sprinkled throughout the book. Nina always remembers to injects a bit of history and background with the "Fashion 101" panels. Favourite brands of Fashion Editors are includes as well as Nina's personal favs.
Most of the list I completely agree with, she has good taste and picks the classics. A few items I wouldn't want even if given to me for free:
1. Cowboy Boots – Never, ever, ever. I was a deluded child in Richmond Hill when I was 15 and obsessed over Cowboy Boots. I never managed to get them and I thank my lucky stars for that. I've wised up in old age. Save it for the real cowboys.
2. I don't do Animal Prints in any way shape or form
3. Diamond Studs – Have I ranted about diamonds on this blog yet.
4. Moccasin – I've seen some nice ones, but really, lets not go there.
Some items I really didn't understand their inclusion in the list and their contribution to style:
1. BlackBerry
2. iPod
Contrary to popular belief style isn't determined by your gadgets.
And then there were the wildcards; things I wouldn't recommend to most people
1. Wayfarers
2. Aviators – I find these either look great or look awful
3. Old concert tshirts – This only works if you ACTUALLY WENT TO THE CONCERT. You don't look cool with a circa 70s Ramones tshirt when you weren't even born yet.
Overall I liked this book better than The Little Black Book of Style and I think it's more useful. It's a great book for people who are wondering what foundation they should have in their closet. Nina provides a great base to build upon. Out of the 100 items I have 73. The book is worth the buy for the illustrations alone, but the content is pretty damn good too.
The One Hundred: A Guide to the Pieces Every Stylish Woman Must Own
ISBN: 9780061664618
Hardcover, 6×8, 304 pages
$23.50