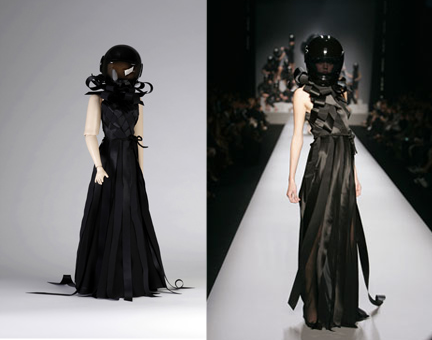 Viktor & Rolf had an exhibit called The House of Viktor & Rolf at the Barbican Art Gallery, London from June 18 – September 21, 2008
The exhibition will chart their career within the context of a specially commissioned installation by Viktor & Rolf. Dominating both floors of the Gallery, this spectacular installation will be kept under wraps until the opening day. The House of Viktor & Rolf will present all the signature pieces and key moments in their career from 1992 to now. Highlights include Haute Couture pieces from Atomic Bomb, 1998–99, featuring dramatic mushroom cloud-like cushioned necklines and Russian Doll, 1999–2000, in which a single model was painstakingly dressed by the designers themselves in front of a catwalk audience in 10 independent layers, in an experience reminiscent of performance art. In the boudoir-themed show Bedtime Story, 2005–06, the dreamy atmosphere was created by garments abundant with broderie Anglaise, quilting and ruffles.

The exhibition includes pieces from Launch, their 'dreams in miniature' collection of October 1996. At the start of their career, and not yet discovered, Viktor & Rolf created a miniature installation that represented all their ambitions: catwalk show with dolls; a fashion shoot; a shop with glass windows and even the launch of a fake perfume with an ad campaign and press release.
You can see video of the exhibit here.
There is a great blog post at If It's Hip, It's Here: Viktor & Rolf's Barbican Exhibit With Side By Side Comparisons of the Dolls & Fashions With The Runway Models. There is a side by side comparison of the dolls to the runway looks that is pretty interesting.
via Notcouture.com
image: ifitshipitshere.blogspot.com