Distill: The best of the international fashion and style press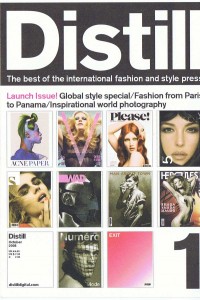 I love this new magazine. I was in the Path looking for Wallpaper and Monocle and found Distill in the fashion section.
As its name suggests, Distill is a distillation of the very best fashion and style editorial from across the globe. We have scoured every magazine – from household names to the most obscure titles – in order to showcase the most inspiring content to stimulate you in your work and everyday lives.

Each issue will contain Distill's selection – made by top creatives from all over the world – of the most beautiful and challenging fashion and style images to appear in print. The international Distill team not only includes those involved in the fashion business but creatives from a wide range of disciplines – all of whom have been chosen for the openness to new ideas and their sensitive understanding of the best visual approaches.
I scanned a few choice editorials.