Holt Renfrew Holiday Bear 2008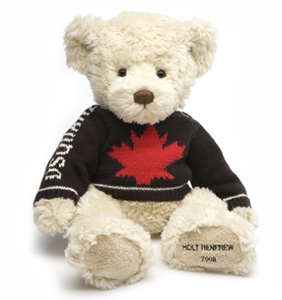 The Holiday Bear has been an integral part of the Holt Renfrew family since being introduced in 1999. This endearing and beloved bear has become an important heirloom piece and collector's item. Each year, great care is taken to create a unique bear and sweater, which stays true to Holt Renfrew's style of reflecting today's latest trends. And no one is more ON TREND than dynamic Canadian designers Dean and Dan Caten of DSQUARED2.

This year, the 2008 Holt Renfrew Holiday Bear marks its 10th anniversary with a special retrospective. Visit our Toronto – Bloor Street location to see the Holiday Bear retrospective in its entirety.

We are proud to link the sale of each bear, which is available for $49, to a very worthwhile cause: The Children's Wish Foundation. 10% of every Bear sale will benefit the charity!