I received a package with a very powerful message the other day from War Child.
War Child Canada is a registered Canadian charity dedicated to providing urgently needed humanitarian assistance to war-affected children around the world. War Child Canada helps generate awareness, support and advocacy for children's rights everywhere.
I was suppose to Help Child Soldiers. The package was wrapped in brown paper and contained the cardboard box pictured. I was confused at first and then I saw the word Uganda. It started to click.
Inside the package was this poster. And another card with block letters stating "We're supporting the problem if we're doing nothing to stop it,"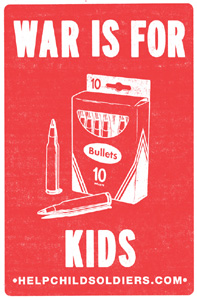 It was unnerving but not as unnerving as this video that you should watch.
1. Over 66% of casualties in war are children
In the Democratic Republic of Congo, 2.7 million children have died as a result of conflict In Afghanistan, 1 in 4 children will die before the age of 5 due to war

2. 300,000 (estimated) children are affected
Boys and girls under the age of 18 – are today involved in more than 30 conflicts worldwide. Children are used as: Combatants, messengers, porters and cooks and for forced sexual services

3. Your cell phone may be inadvertently funding the death toll!
Every cell phone contains a mineral called coltan, which is mostly deposited in the Democratic Republic of Congo. Illegal coltan exports are a primary source of funding for a conflict that has claimed over 5 million live

4. War Child's programs look at "preventing"
By offering economic opportunities to young people and their families, as well as education opportunities and peace building courses/activities

5. War Child also focuses on "reintegration"
Former child soldiers have access to our education, psychosocial and livelihoods, and child rights programming
Visit Help Child Soldiers and War Child for more information.