Jaime Hayon Josephine and the Fantasy Collection, a pop up experience by Ministry of the Interior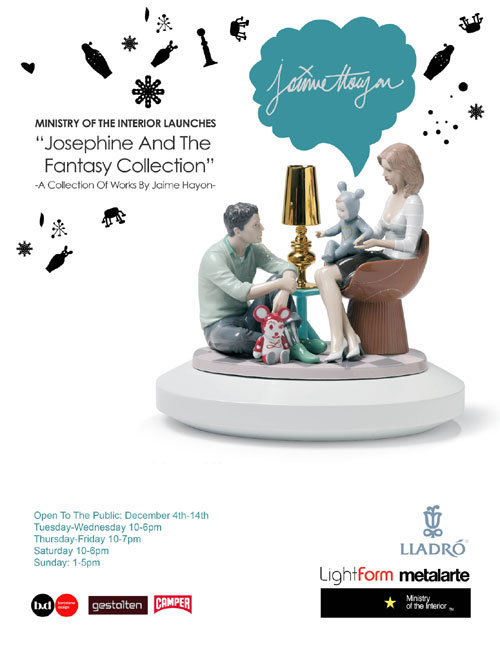 Jaime Hayón Spanish artist / designer Jaime Hayon was born in Madrid 1974. He trained as an industrial designer in Madrid and Paris. In 1997, he began working as a researcher in Fabrica, Benetton Group's communication research center in Treviso, Italy. A year later, he was appointed, by Mr. Luciano Benetton and communication guru Oliviero Toscani, head of the design department, where he oversaw the development of interiors for shops, exhibitions and restaurants as well as books, magazines and logo designs. 2004 saw the start of Hayon's individual career and he has kept himself busy with a spectrum of eclectic projects. From toys, to furniture and interior design as well as artistic installations, his boldness has been to transcend the borders of the often separated worlds of art and design, comfortably bridging the two whilst embedding them with his unique style.
Beautiful housewares; absolutely stunning and expensive as all hell. It has to be seen to be believed. I'm in love with the Camper/Jamie Hayon shoes, OMG!
It's a pop up shop, so it won't be around for long! It's so worth seeing.
162 Cumberland St
Toronto