Diorshow Mascara
You might remember my last run in with blue mascara. I bought the Cargo stuff in April and I promptly threw it out in the fall. I was left without for a few months and decided to give the Diorshow Mascara in Blue Azure a shot. I had received a tester of some kind of Dior mascara at a fashion event and loved it.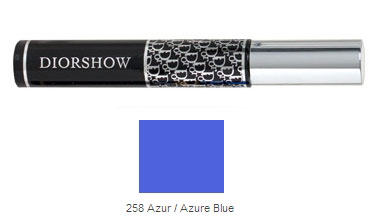 Things I like about Diorshow
The colour. It's a great blue that's not too bright
The brush is massive
It's waterproof
It doesn't flake
Things I don't like
It took 3 coats to achieve the look in the above picture
It wasn't easy putting the mascara on. You really had to wiggle that brush to get the product on the lashes. I really want Ôscillation by Lancôme to come in blue.
Overall, I like the product and it produces quality results even though those results are difficult to achieve. If the Ôscillation comes out with Blue it's all over for Diorshow; it lengthens and curls without the need of an eyelash curler.