Hello Kitty On the Prowl Nail Lacquer by M·A·C Cosmetics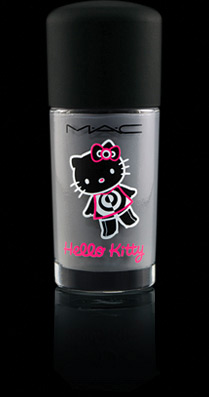 I didn't think much of the Hello Kitty line from M·A·C until I met someone wearing the On the Prowl Nail Lacquer. It was grey and matched my Oakley sunglasses perfectly. I had to have some. I received some tips from M·A·C insiders that told me that it's selling out quick and to get my but to a store. I was successful in my attempt. I would call ahead nearest M·A·C store to check availability if you are still looking.
Limited edition shades of Nail Lacquer in a bottle featuring Hello Kitty and M∙A∙C and Hello Kitty logos.
The promotional video for the line is interesting. Gotta love half naked men with Hello Kitty Heads.