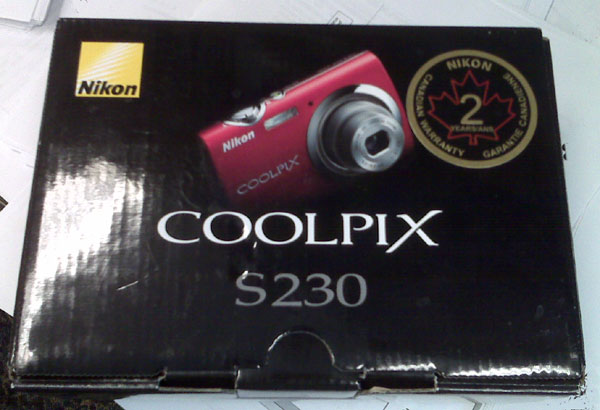 Strategic Ampersand provided me with a Nikon S230 to evaluate for two weeks. I'm never really pleased with the performance of point and shoot cameras but it's the cruel bargain I have made with myself. A digital SLR is just too big to carry around to events and that trumps any idea I have about owning one. I like something small and compact. I use a Pentax right now and I have a bit of a love hate relationship with it. I hate it more than my old Pentax. I broke my old Pentax but we had a great relationship. I was able to take consistently good pictures with the camera and I haven't been able to replicate that feeling with the new Pentax. I was hoping the Nikon S230 might return me to those carefree days of great photos.
The big claim to fame for the S230 is the 3 inch touch screen. I'm usually not a touch screen fan but I was curious to see what the technology was like. Some of the other features include:
Choice of colours
10.0 megapixel resolution
3x zoom
Electronic VR image stabilization
3-in. touch screen high-resolution LCD
ISO 2000 capability
VR Image
Stabilization
Scene Auto Selector
Motion Detection
Smart Portrait System
There are a lot of features on this camera that I wouldn't use and didn't. There are some limited photo editing capabilities like the In-Camera Red-Eye Fix or the Paint functions. I do my photo editing in Photoshop and I don't think I'd ever use those features on a camera. I tend to stay away from the preset features on cameras and stick to a customized setup.
The touch screen interface wasn't bad. It was a bit slow at times moving scrolling through photos. It has an iPhone like experience for viewing photos. The shutter speed was much faster than my Pentax and I enjoyed the increased response time. The camera itself is light and compact. Playing with the autofocus features was interesting. This is where Nikon did a good job of integrating the touch screen with features. Using your fingers you can move the focus to where you need or increase the size of the autofocus area. That was the neatest feature of the camera.
Overall, I'm not a fan of the camera. It really boils down to the fact that I can't stand the screen. The material used to make the screen durable and scratch resistant is also what makes taking pictures with this camera unbearable. It's never clear enough to see if the picture turned out. When I take a photo with my Pentax I know exactly if the picture turned out or not. The display is crystal clear and there is no issues determining image quality.
The Nikon doesn't allow that understandably. The images are always slightly grainy and I was never sure if it was the photo or the screen. It was only until I uploaded the photos to my computer did I find out their quality, which is way too late. When the pictures turned out they were amazing and when they didn't they were bad. I'm sure this has more to do with me than the camera, but I just couldn't take the pictures I wanted with the S230 that well. Day 3 of |FAT| I used the S230 to take my runway shots and I wasn't happy with them at all. The camera doesn't work for taking runway shots at all. No good for my line of work.
If I had the opportunity to evaluate a Nikon camera again I would definitely try another model as I wasn't happy with the touch screen. The Nikon S230 retails for $239.95. Not a bad price.