A month ago I participated in Mimi + You Celebrate Courage Workshop. The necklace I made is now on sale at MiMi + You website.
It looks a little different then what was in the last post. At that point it wasn't completed as the there needed some a way to attach the chains part to the beaded part. Mitra took it away to do complete that. She managed to incorporate one of my original ideas that I dropped, ribbon. I'm very happy with the final product.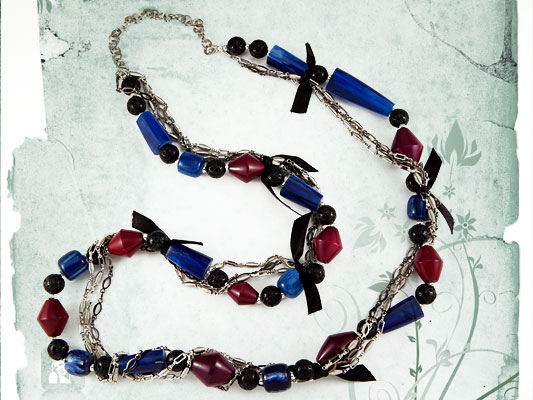 If you would like to participate in a workshop there are a few scheduled during the next few months:
June 24, 2009 – July 22, 2009 – August 19, 2009 – September 23, 2009
Workshops start at 6:30 p.m. sharp
Participation fee is $20 per person
The Spoke Club
600 King Street West
4th floor, Cellar Room
Toronto, ON
To RSVP please visit the Mimi + You Celebrate Courage website.
If you can't make the workshop you can donate your idle jewelry to be used as product and creative inspiration at the workshops. Send us your old jewelry visit www.getinvolved.ca and take the challenge. To schedule a shelter or corporate creative workshop, find out about our upcoming community workshops, or to volunteer as a workshop facilitator please visit www.mimiandu.com/courage