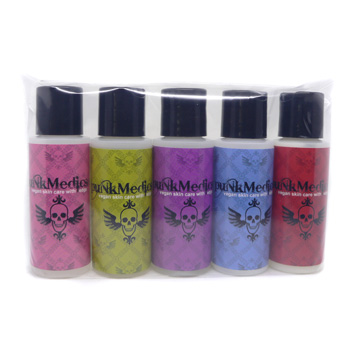 I review the odd skincare or beauty product on the site, so it was nice to get pitched from a Canadian based company. The thing that makes PunkMedics different is that all it's product are vegan. They carry a range of products from skincare, lipcare, piercing & tattoo care and even roadrash care. PunkMedics is also an sustainable company and you can read about their practices on the website.
PunkMedics is a Canadian based company that manufactures, wholesales and retails a fun line of vegan skin care products with edge. Our products are made of natural plant and botanical ingredients from organic sources. They are 100% vegan (contain no animal by-products) and not tested on animals. They are free from parabens, sulphates, petroleum by-products and GMO materials.
I first heard of Toronto based PunkMedics through twitter. Owner, Badur Ramji, offered to send me the Vegan Sample Pack which I used on my FDJ press junket trip. It contained a Body Wash, Conditioning Shampoo, Leave in Conditioner, Facial Cleanser and Body Lotion. The only thing I didn't try out was the Leave in Conditioner. Short hair really has no need for leave in conditioner.
All the products I tried were top notch and performed to my satisfaction. The facial cleanser and body wash were both gentle to the skin but effective in cleaning. They weren't excessively drying either. The body lotion was a good moisturizer and keep my skin hydrated throughout the day. I really like the idea of Conditioning Shampoo. I don't have much hair most of the time and when it does it longer I don't want to shampoo and condition.
What I love most about PunkMedics products is that they are unscented. I'm sure we all have had issues with horribly scented skincare products. PunkMedics gives you the choice, you can go unscented or you can add your own essential oils. I think this is a great idea. I wish more companies would offer unscented version of their products. Better yet, make all products unscented and leave the business of fragrance to the perfumers.
PunkMedics can be purchased on the website or various places across Canada and the US.