So I've been drooling over Hermès scarfs for a long time on I want – I got.
Containing 65 grams of silk from 250 cocoons, 90 centimetres square, the Hermes scarf has become a standard for good workmanship and discreet luxury. It requiring up to two years of work to produce one of these wearable art that is an expression of its style and luxury.

From 1837, Thierry Hermès made harnesses and saddles for a privileged clientele. Boots, jewelry, home decor items, and silk scarves were added to the company's range. In 1920, his grandson Emile included luggage.

The first scarf square to accompany the Hermès collection was produced in 1928, inspired by that worn by Napoleon's soldiers. It was a big success that resulted in a workshop, then a factory, for scarf production being set up at Lyon in 1937.

Each Hermes design requires:

* nine to twelve months of research and development;
* fifty-odd designers,
* ideas drawn from styles such as baroque,
* contributions from artists such as Matisse.

Six to eight weeks are required to meticulously prepare as many silk-screen printing frames as there are colours.

The printers prepare their pigments to make a palette of tonnes of printing inks. The Brazilian silk is spread out on heated tables 150 metres long. This allows a batch of 100 squares, comprising forty colours, to be printed. After printing, seamstresses roll and stitch the hem of a square, by hand, in 30 to 45 minutes. Hermes can produce 40,000 scarves in a week. Every year, there are two collections, each of a dozen designs, of which four to six are re-issued classics with the colours updated.

Since 1937, Hermès has marketed 25,000 scarf designs. The absolute record, attained at the end of the 1980s, was 1.123 million scarves bought in one year with, at times, one scarf being sold every 20 seconds somewhere in the world.
I decided that I would take advantage of the Hermès special Silk and Accessories Sale. It's a biannual event that is in support of Multiple Sclerosis research at St. Michael's hospital. The main thing about this sale is discounted ties and scarves.
I didn't want to brave the crowds and crazy fighting womens so I hit up the sale at the end of the day and took my chances. I had a friend contact me during the day telling me to get my butt to the Metro Convention Centre so I could get in line with her. It didn't work out so I arrived after work to a very quiet sale.
I checked out the scarf table and there was a lot of the Indian Rain prints from Spring 2008. They were quite pretty but nothing I really wanted to spend my money on. I wanted something that was intricate and colourful. I wanted it to know that a lot of silk screening went into the scarf. I was ready to call it quits and make plans for the sale in 2011 when a random women returned this beauty to the sale table.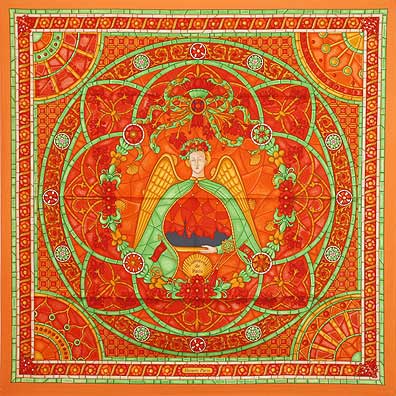 The style name is Lumieres de Paris and it's by the artist Natsuno Hidaka. It was originally issued in 2006 and also came in a blue version. This stained glass reproduction was definitely something I could see myself spending money on.
So I bit the bullet and fulfilled one of my fashion fantasies. I now own an Hermès scarf at 52% off. That discount comes at a price, there were no iconic orange packaging to be found. Everything was put into discreet white paper bags. This again goes to my theory about luxury packaging making up half the price of goods.