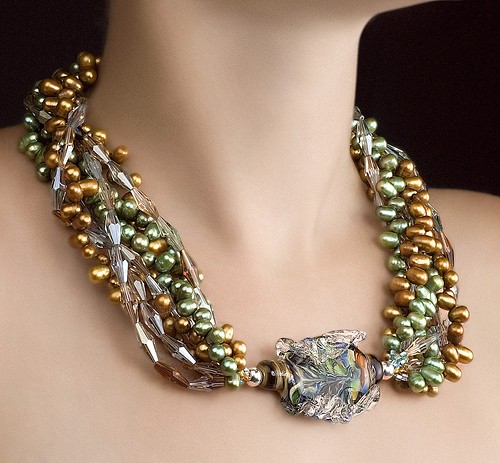 During my vacation I had the pleasure of meeting with local jewellery designer Darlene Martin of Bijouxbead. We connected on twitter and she wanted to show me her work. Darlene is a former professional figure skating coach and doesn't have a jewellery making background. It was very interesting to hear how she found herself making jewellery. It all started with an impromptu jewellery making class with young her daughter that sparked her creative interest. In 2007 BijouxBead Wearable Art was formed.
BijouxBead necklaces are usually characterized by a glass bead. It's the focal point of the necklace. The lampwork glass bead is handmade by Darlene by hand. They take on various shapes and textures. I really liked the weight to these pieces and the tactile nature of the glass. I spent a lot of time examining the bead on the brown necklace. The colours were so intricately laced together that I mistook it for stone initially. The full collection include necklaces, bracelets and earrings that are all handmade using glass, semi-precious gem stones and sterling silver.
Until August 31st, Darlene Martin will be helping to fund the efforts of PARC through her "Summer in Parkdale" collection being shown at Made You Look Jewellery Gallery, 1338 Queen Street West.
One of PARC's programs provides the opportunity for 40-50 of its members to experience the great outdoors at Camp Kandalore in Minden, Ontario. This summer, Darlene Martin of Bijouxbead (www.bijouxbead.com) will be helping to fund these efforts through her "Summer in Parkdale" collection…Honouring Parkdale's story, challenges and reputation as a destination for local contemporary art & culture, this exclusive collection from Bijouxbead combines alluring metal, stone and glass in hues ranging from steel to pewter to blue. Named after significant Parkdale historical landmarks, a portion of the proceeds from Summer in Parkdale is being put back into the community, benefiting PARC, "a community where people rebuild their lives".
The Parkdale Activity-Recreation Centre (PARC) is a drop-in community centre located in the west end of Toronto, an area known for its harsh social climate. PARC has been operating for over two decades and offers support to help sort out a life; it is a springboard for self-improvement, finding shelter, getting education, and getting work. PARC is located at 1499 Queen Street West and can be reached at 416-537-2262 or online at www.parc.on.ca.(source)
BijouxBead pieces are all one of a kind so you'll never see two the same around. You can find BijouxBead Wearable Art at the BjiouxBead Etsy Store, Made You Look, Artists Walk and 18Karat
Summer in Parkdale collection by BjiouxBead available till August 31st at Made You Look Jewellery Gallery, 1338 Queen Street West.
If you've been paying attention you should have seen BijouxBead in some previous photos of me on the site.