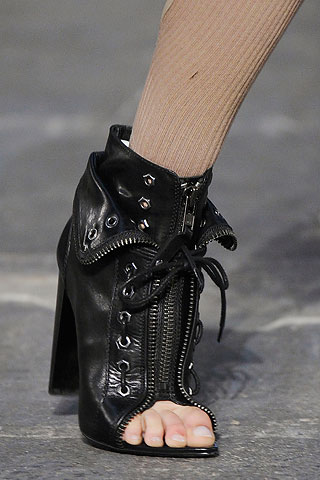 I was reading the Buyers Laud New York Fashion Shows article in WWD today. I'm always interested in what the buyers/retailers think of the collections. For the last few seasons I've been posting about Barbara Atkin's feelings on the show. Spring 2010 is no exception.
Barbara Atkin, vice president of fashion direction at Toronto-based Holt Renfrew: "The week was very optimistic with a beautiful lightweight feeling to the clothes and beautiful palettes. The season was fresh and modern and spoke to a new generation who is traveling and packing light. In this economy, it's all about fit and quality, looking at clothing and saying, 'This is worth the money I'm spending.' If it's not going to jump out at the customer, she's not going to buy it.

"Oscar de la Renta understands his woman and understands the casual lifestyle. At the same time, he knows this woman needs a structured, tailored suit, and he still makes it feel modern. Marc Jacobs is a visionary. He took essential pieces and cultural elements from around the world and gave it back to us in a very interesting way. Where's the salability? Underneath it all. He had beautiful toppers and trenches and the most beautiful soft ruffled dresses. Tory Burch got it right by taking the essentials and putting them together in a new way and democratizing fashion. She's giving us beautiful clothes at not extraordinary prices. Donna Karan took the skirt suit and dress and made it modern. Phillip Lim and Alexander Wang are speaking to a new generation and I love their vision.

"Everything looked very salable. There was an eye toward salability, yet there was enough art and newness that will compel women to buy."
Many other buyers weigh in on the collection you can read the article on WWD.com.