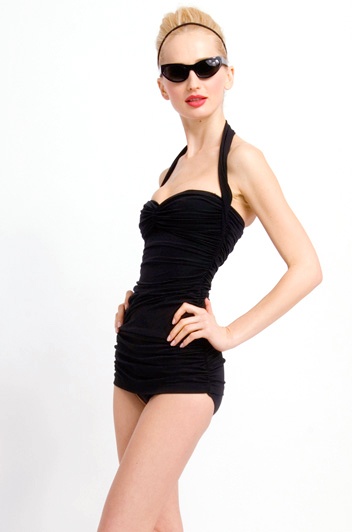 Sometimes readers ask me questions. If they are of value to all my readers I post them online. If you have a question, please feel free to submit it using the contact form. I'll definitely do my best to answer it.
I want – I got twitter follower @edlynne wrote for a friend:
Where are there good non-skanky swimwear stores in Toronto?
I replied to this query on twitter but I thought it would be good to record the answers here for everyone. First, I had to understand what non-skanky swimwear meant. I had thoughts of this person wandering into the many shops on Yonge Street that carry a variety of skankwear. I came to understand that the friend was looking for more classic/ retro swimsuit shapes.
I had the following stores in mine for more classic/retro swimwear options.
I also suggested ordering a beautiful swimsuit from Norma Kamali online. Just because they are so gorgeous and perfect.
Candice Best tweeted the following additional stores to try
swimwear: decent options with lines like Eres, Vix at Sandpiper(yorkville) + LaMerceria carries Colombia's Touche – gorgeous cuts!
Do you have a suggestion to add?
image: normakamali.com