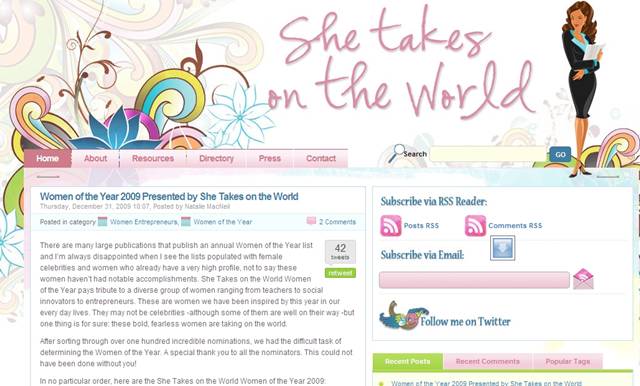 On December 31, I received an email with this subject line, "You are a Woman of the Year Honoree." WTF is this, I thought. Woman of the Year?  Is someone playing a joke on me. It has to be spam, like that Princeton Premier stuff.
It was real and it shocked me.
There are many large publications that publish an annual Women of the Year list and I'm always disappointed when I see the lists populated with female celebrities and women who already have a very high profile, not to say these women haven't had notable accomplishments. She Takes on the World Women of the Year pays tribute to a diverse group of women ranging from teachers to social innovators to entrepreneurs. These are women we have been inspired by this year in our every day lives. They may not be celebrities -although some of them are well on their way -but one thing is for sure: these bold, fearless women are taking on the world.

After sorting through over one hundred incredible nominations, we had the difficult task of determining the Women of the Year. A special thank you to all the nominators. This could not have been done without you!
I had never heard of the She Takes on the World website before so I did some digging. Natalie MacNeil is the founder and she has an impressive resume. She's Canadian too. It was becoming apparent that this wasn't some random website on the Internet.
She Takes On The World is an award-winning blog for women entrepreneurs.

Women are starting small businesses and taking the self-employment route at twice the rate of our male counterparts. More and more women are embracing entrepreneurship as a lifestyle and She Takes On The World aims to support and inspire women entrepreneurs. Here, you will find articles on a variety of subjects related to entrepreneurship, interviews with fabulous women entrepreneurs, business resources, and a free directory for women-owned businesses.
So there is my face among the other honourees. It feels a little strange, I'm just a fashion blogger and some of these women really do great work. I'll take it though, with gratitude. What an amazing end of year gift. Thank you.
image: shetakesontheworld.com