I was sent a package containing some Cheeky Monkey Cosmetics Nail Polish. The package contain a base coat, top coat and four colours. The names are stewed in a lot of pop culture and rub some people the wrong way. Brazen Hussy = metallic dark fuschia; Camel Toe = medium dark neutral beige, Virginal Pink = light pink and Cougar = medium red with blue-orange. I'm ambivalent about the names to be honest. I like regular colour names, it's easy. I guess I'm a traditionalist in that sense.
Brazen Hussy was my favourite of the bunch. It's the type of colour I would wear normally. I like dark colours in nail polish like purples and blues with metallic finishes. I'm also a fan of neon and grey based shades. I decided to try something different and went with Virginal Pink, a colour I would never wear.
I applied the nail polish as laid out in the instructions with slight modification. Two base and top coats were needed. I went with three coats of Virginal Pink because  it didn't cover my nails completely. It was a little streaky.  The top coat takes awhile to dry completely.  It's not quick dry so be careful, I learned the hard way.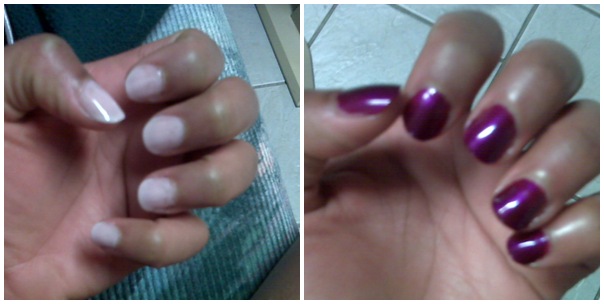 Virginal Pink and I still don't get along. I don't like the colour as a nail polish. The durability of Cheeky Monkey nail polish surprised the hell out of me, three days without any chips. The polish looked as fresh as the day I applied it. I didn't push the polish to the limit because Virginal Pink was killing me and I had to remove it. I decided to go back to my roots and applied Brazen Hussy next.  It was a beautiful, rich purple colour.  I was in love.  There were no streaks and I only needed two coats.  This polish also stayed chip free for days.  Chip free is a big  thing for me.  Nail polish chips like crazy for me and to have one that lasts is huge.  I'm impressed with Cheeky Monkey.
Our quality and heritage in manufacturing has lasted over 20 years. Our quality assurance procedures, experience, values and personality help assure that you get the best product possible for the price. Our design and inspiration comes from Canada. All our products are quality manufactured in the United States and our onsite lab has created over 600 colors, using the highest quality base and colors, and a full line of nail treatments and cuticle oils which we've selected the top 39 for our initial launch. Most of our ingredients are from Europe, our brushes from Spain, our bottle glass from Italy, which is all then manufactured in our state-of-the-art facility in the USA. Extensive quality control checkpoints during and after the manufacturing process ensure the best quality available. All components are imported from Europe or manufactured in the United States. We adhere to US, European Union and Canadian standards for cosmetics and measurement.

All Cheeky Monkey Cosmetics are 3 Free containing no formaldehyde, toluene, or DHP. Our products are non-toxic and rank a one on the skin deep cosmetics safety database (a 1-10 scale with one being the lowest hazard score).
You can purchase Cheeky Monkey Cosmetics Nail Polish online and a few stores in Toronto.