Only Miss J. Alexander could have gotten me out of the house on Saturday battling the wind and rain. He was hosting a Celebrity Walk Off at Holt Renfrew which pitted some local celebs against each other on the runway. The winner of the celebs was Ciara Hunt from Hello Magazine. It was well deserved and super cut to see her children cheering her on. Then there was a contest where 10 members of the public were given and chance to impress Miss J.  Auntie Fashion asked me to strut my stuff in the public contest but I was nervous and opted out. The only strutting I do is on my way to work with iPod in ear. I'm sure I'm a spectacle in the Financial District.  I was wearing my hunters that day too. Sorry Auntie Fashion 🙁
The event was one of the best public event at Holts I've been to. Despite the weather it was packed in the shoe department. There was a great mix of people. Some people brought there families to check it out. Miss J was extremely funny and had everyone laughing and smiling the whole time.
I soon learned that Miss J would be giving away signed copies of his book Follow the Model: Miss J's Guide to Unleashing Presence, Poise, and Power
. I got in line so that I wouldn't miss my chance to meet one of my fashion heroes.
We had our brief meeting and Miss J was super sweet. He took a little bit of time with everyone and made personal comments everyone's book. I really like mine.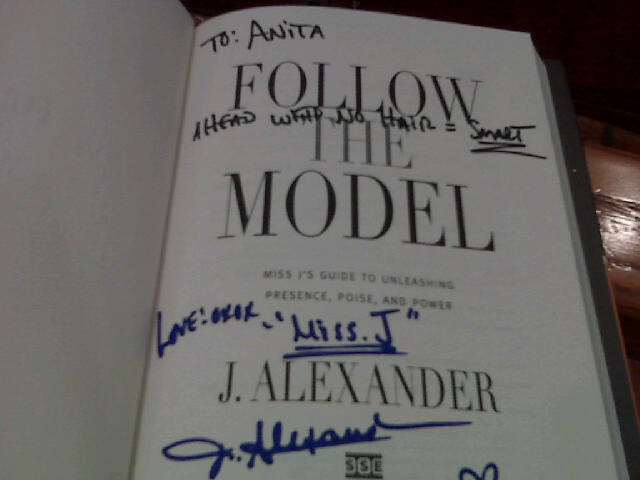 Now it's time to read the book and post a review.