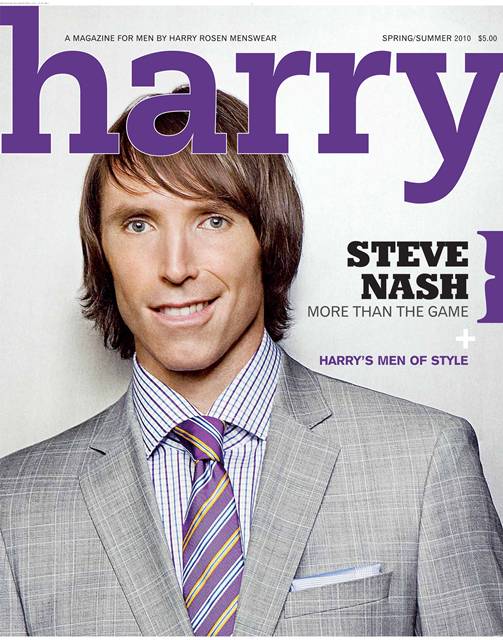 Harry Magazine, the award-winning publication by Harry Rosen Inc., will feature one of Canada's top all-time athletes, Steve Nash – Phoenix Suns point guard and a two-time NBA Most Valuable Player – on its cover and in a six-page feature and photo spread in the Spring 2010 issue, being mailed today.
I have a weakness for Steve Nash. I didn't know it when I first saw him years ago. I was a huge basketball head. I played in high school religiously. I loved amateur ball and March Madness was my thing.  I thought about trying out for York U's team but decided to do Track and Field instead. I became a licensed referee during my last year of high school and did that for a few years. I still remember my little black and grey outfit, black runners and my Fox40 whistle. Rounding out my basketball knowledge resulted in learning the table, the scorekeeping table. I've performed all the jobs on a standard setup: timer, scorekeeper and statistician. The hardest job was the statistician by far. You really had to pay close attention in that position, there were no breaks. You recorded things like shot placement, shot percentage, fouls and free throws as the game was moving .  During stoppages of play you were still recording. In the old days, you had a piece of paper where you would draw the stats by hand. By the time I finished doing scorekeeping there was a touch screen computer with wired pen to enter stats. This is in the early to mid 90s.
I used to do scorekeeping duties for games that would involve the Canadian National team. I think they were part of this North American basketball league in which the Canadians were playing. This is where I first saw Steve Nash. He was young and I have to admit I didn't think much of his playing. How was I suppose to know that 10 years later he would be running the NBA like no ones business and so turn out hot.  I think it's great and he's great.
So, I wrote this post mostly for a reason to put up a photo of Steve Nash and to let you in on a little Anita History. 🙂
image: courtesy Harry Rosen Inc