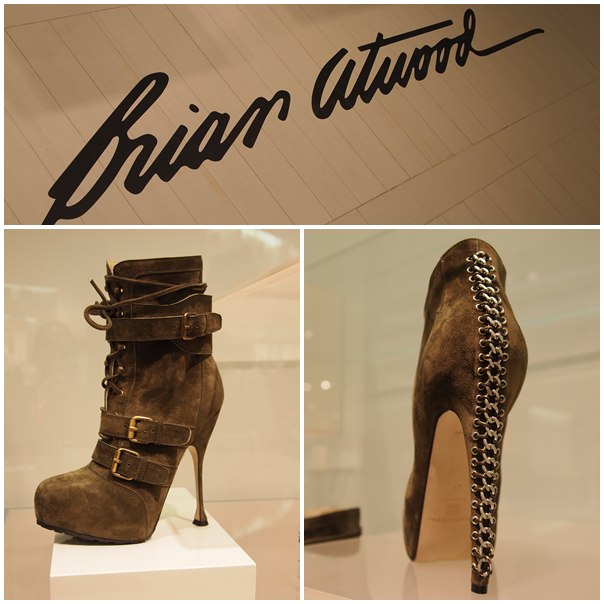 Brian Atwood made a personal appearance at The Room. Brian Atwood is a CFDA award-winning footwear designer. He grew up in Chicago and studied clothing design at FIT. This formal model began working for Gianni Versace in 1996 on the Versus Line and then was promoted to chief designer of women's accessories. This is where he learned all about shoes. In 2001, the Brian Atwood label was created. In 2003, Brian was awarded the Swarovski's Perry Ellis Award for Accessory Design from the CFDA. I did a little interview with Brian on my lunch hour.  I was a little taken back by just how good-looking the man is.  The photo says everything.
Anita: You seem have everything right now. Celebrity fans, a 9+ year business that has been very successful, you are award winning. What are your next steps? Where do you see yourself in the future? What are you working toward?
Brian: Definitely opening stores and giving the customer more of an inside look at what they would look like in this Brian Atwood world.
Anita: Do you see yourself branching out to more than just shoes?
Brian: Definitely, possibility in Ready to Wear. Bags definitely will come. We have a small collection that mainly complement the shoes but I'm definitely eying that aspect. Anything that feels the synergies that goes with brand and the aesthetic of the brand. It could be jeans, could be sexy jeans. Could be anything that went with the brand.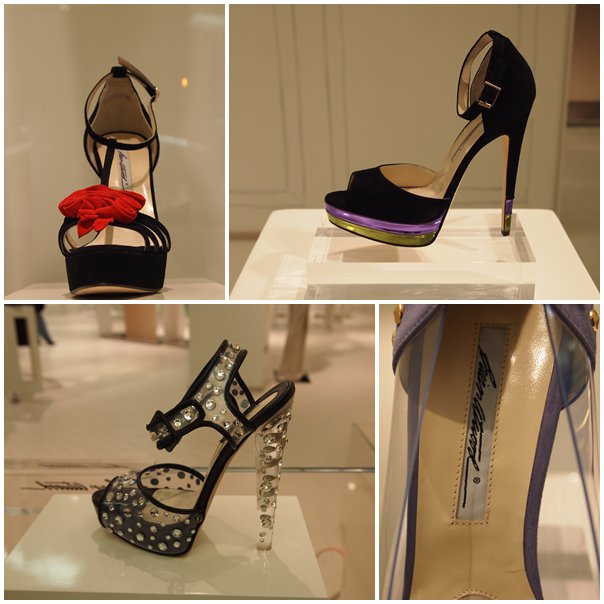 Anita: You are originally trained as a fashion designer and you've moved into shoes and accessories. What do you feel is your favourite now. Do you still gravitate to clothing?
Brian: I still love clothing but definitely I have been sketching shoes for as long as I can remember. Before it meant anything to me. I can drape a dress, I can sew but really that foundation I was always interested in architecture. Building that shoe, there is such a small space on a shoe to make it work. It's always challenging that how do we make the same impact of that dress and have that equally effective in a shoe. It's very challenging.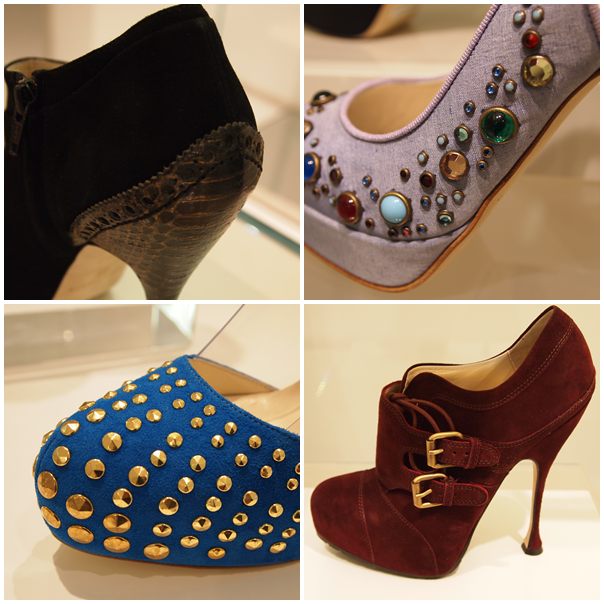 Anita: I can imagine.
Brian: But nowadays you can put anything on a shoe.
Anita: That's so true. (this is were I laugh and get lost in his eyes, I snap out of it and get back to the interview, ha ha)
Anita: What do you think are the next trends coming out for footwear?
Brian: Well I really think we've embellished them with everything we everything from studs to lizards. We have seen a return of the lower heel. Nowadays I think the platform and these really high heels have become a staple in a women's wardrobe. I think now it's just really just giving women beautiful shoes and playing on with colours and textures and keeping it luxurious.
That evening, The Room hosted a little cocktail party for Brian Atwood, select media and a whole wack load of Toronto socialites. I'm really ignorant of Toronto socialites. I know of and met a few of them and others I just see around a lot.  There was a lot of money in the room, that I knew for sure. I noticed Chanel, Hermes, Alaia and Balmain on a few of the women.   A couple Birkins were battling it out, the croc won.  I wondered about their individual routines for getting ready for such an event.
Standing in this room watching them interact was the best people watching ever. Eventually Brian Atwood entered and everyone gravitated to him. Watching him work the room of these women was amazing. He commands the room and is really such a lovely person to interact with. It was easy to see why everyone woman wanted to talk to him.
I had a great time at the event and I got to see some of The Room's great personal shopping and party facilities. I always love getting this insider view. There was fashion to gawk at, canapes to eat and friends to chat with. Yasmin Warsame showed up in one of my favourite pieces from Jeremy Laing spring summer 2010. She looked absolutely stunning. I even got a double kiss from Brian and a hug from Yasmin, I swooned. It was a good time.
You are going to want to see the slideshow. I went to town snapping shoe pics with the Olympus E-PL1. I'm still in love with the Olympus E-PL1 and I don't want to go back to my Pentax.