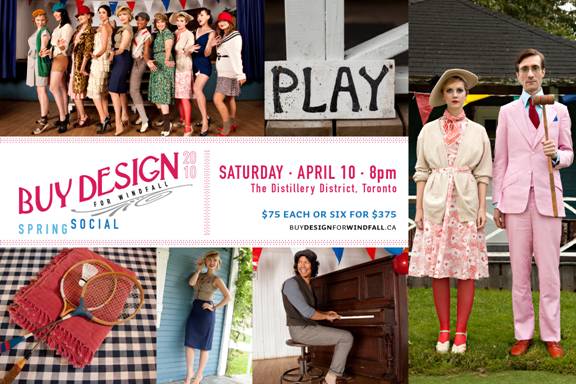 Buy Design Spring Social is Windfall's seventh annual dress up party!

On Saturday, April 10 at 8 pm, The Fermenting Cellar in Toronto's Distillery Historic District will be transformed into a dirty thirties fundraiser featuring a mess hall auction, croquet and badminton lawns and a swinging dance hall tent. Sip sidecars, sours and planters punch and parade across the big band stage in the boater pageant. Throw darts at the Beauty Balloon Buster game and sample brown-bagged bites from the country fare stands and bake sale.

Hosted by TV and fashion personality ADRIAN MAINELLA.

Tickets are $75 each or 6 for $375.
Order online or call 416-703-8435.
images: Anna Lisa Sang