I battle the crowds and complete silliness of attending a Joe Fresh show for one reason.  Models.  It's not for the clothing in any way shape or form.  This season Joe brought in Crystal Renn and Kirsten Owen.  I had to see Crystal Renn with my own eyes as I've had suspicion about this "plus size" label she has been given.  You know what people, it's all bullshit.  Crystal Renn is a far cry from plus sized.  People who seem to think that this is a win for the average sized women seem to forget that Crystal Renn is anything but average.  This girl is a model the last time I checked.  She's 5'10 and has all the features that required.  She's on the edges of that bell curve and that is the complete opposite of your average person.  She is gorgeous and has great hair.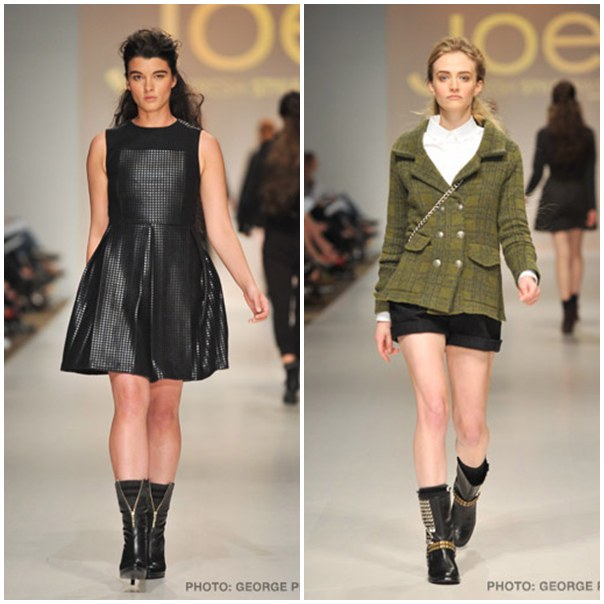 Joe Fresh jumped on the fur bandwagon hard.  Of  course a lot was faux.  I thought everything was faux but the line sheet is telling me differently.  I really don't want to know how Joe Fresh can produce real fur gloves for  $16 or a fur peacoat at $99 .  Faux/real fur Chanel 2.55 handbag knockoffs, vests, peacoats, elbow length gloves, hats, scarfs and swing coats all paraded down the runway.  I wanted it to stop, everything but the crème swing coat was awful.  That coat was a stroke of brilliance in the collection.  It looked real and had great movement.  It retails for $99.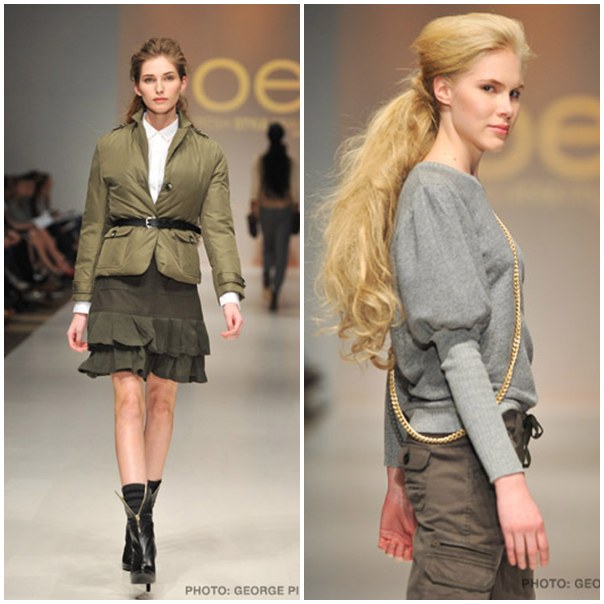 There were a lot of sporty influences and track pants and sweatshirts were pretty prominent.  Plaid mohair fabric in blue, pink and red became skirts, jackets, capes and scarves.  I like the fur, I didn't enjoy these pieces much.   The collection managed to include sequins, animal print and military details too.  Yes, it was a bit all over the place but what do you expect for 52 looks from Joe Fresh.
The shoes intrigued me.  I spotted some Bess boot and Alexander McQueen knockoffs.  I haven't heard many good things about the fit of Joe Fresh shoes but I would be willing to check these out come fall if I can find them. It seems many pieces from the fashion show are difficult to come across in the retail stores.
See more photos from the Joe Fresh Fall Winter 2010 collection on Lgfashionweek.ca.
EDIT (April 6, 2010): I've just been informed that all the fur in Joe Fresh Fall Winter 2010 -2010 is faux.
images: George Pimentel