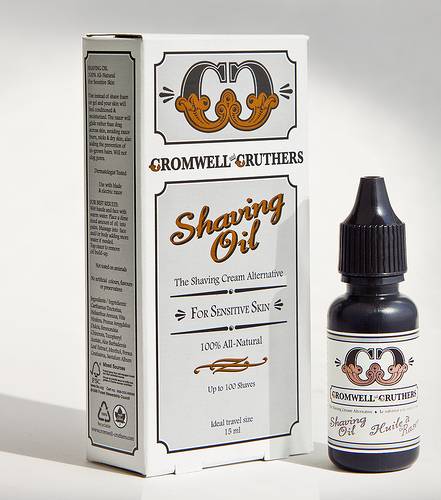 This post is part old and part new. I had my friend The Grumpy Owl review Cromwell and Cruthers Shaving Oil back in 2009. It's an awesome review which is reproduced in it's entirety below. Cromwell and Cruthers have re-branded the product and I like the new slick look. I also like that Philip Sparks and Mackenzie James are involved in the advertising campaign. I have behind the scenes footage.
geekiviews: Cromwell and Cruthers Shaving Oil
Originally Published: 2009/01/02
This edition of geekiviews features a guest blogger, The Grumpy Owl. He's a guy and the Cromwell and Cruthers Shaving Oil is for men. So it made sense that he review it instead of me.
I hate oiling up my body. It's the sort of the thing that one should have a person for. Preferably young, buxom and foreign. So, when Geekigirl gave me a plastic vial of Cromwell and Cruthers Shaving Oil, I viewed the product with some trepidation.

Oil is bad enough but shaving is worse. The last time I combined the two, I spent an entire weekend cleaning hair, blood and assorted perfumes from my sheets. It was not an experience I was looking to repeat.

But geekigirl quickly explained that I was to use this product to shave myself. Specifically, my face. While alone.

I might not like oil or shaving but I do love my face. So I decided to give this shaving oil a whirl. Having used it for the past few weeks, I now feel competent to review the stuff.

It's pretty good.

At four dollars and fifty cents a vial, it's reasonably priced. Certainly much cheaper than hiring a barber to shave your face and not much more expensive than a can of foam. Although it lacks the proto-erotic thrill of having a man stroke your throat with a razor, it smells quite nice and provides a close shave. It also lasts quite a long time.

But I wouldn't expect anyone to believe mere words. After all, I've been bribed with a five dollar vial of shaving oil. A lot of bloggers come cheaper than that. So I'm providing you with photo evidence.

Ryan Oakley Before Using Cromwell And Cruthers Shaving Oil

Ryan Oakley After Using Cromwell And Cruthers Shaving Oil

I expect you can draw your own conclusions from that.
Cromwell and Cruthers Shaving Oil (a Canadian Company) can be purchased at Shopper's Drug Mart and PharmaPlus