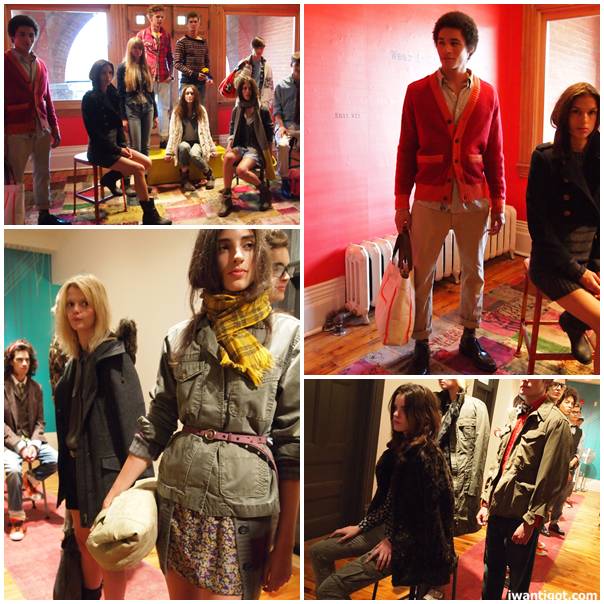 The buzz about the TOMMY by Tommy Hilfiger Holiday 2010 preview was that uber cool, fashion god Kate Lanphear from Elle Magazine would be in attendance. She floated around The Gladstone Hotel briefly, stunning everyone with her beauty and killer outfit. I only get starstruck around editors like Kate. She was gone so fast I didn't get a photo with her, oh well.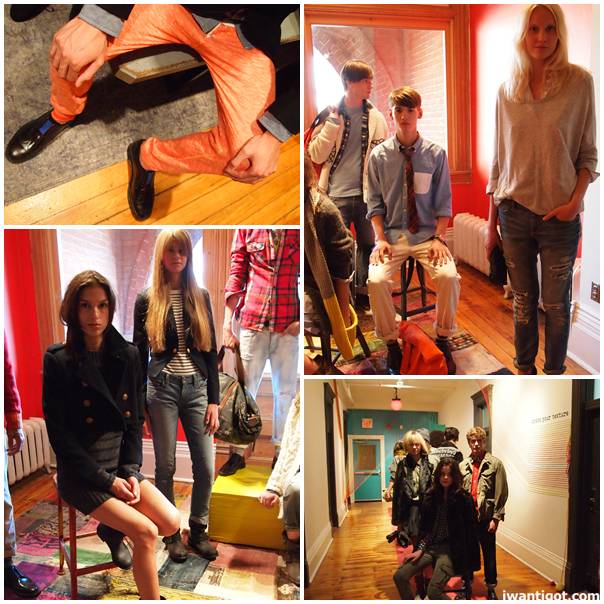 So TOMMY is Tommy Hilfiger's first project since being acquired by Phillips-Van Heusen Corp. They are hoping to grab some of the market that American Apparel, Gap, Abercrombie & Fitch and American Eagle Outfitters are targeting. They are hoping to get 25 year olds that aren't looking for typical preppy Tommy Hilfiger. It's a men's and women's line that will consist of knits, denim and outerwear from $24 to $139.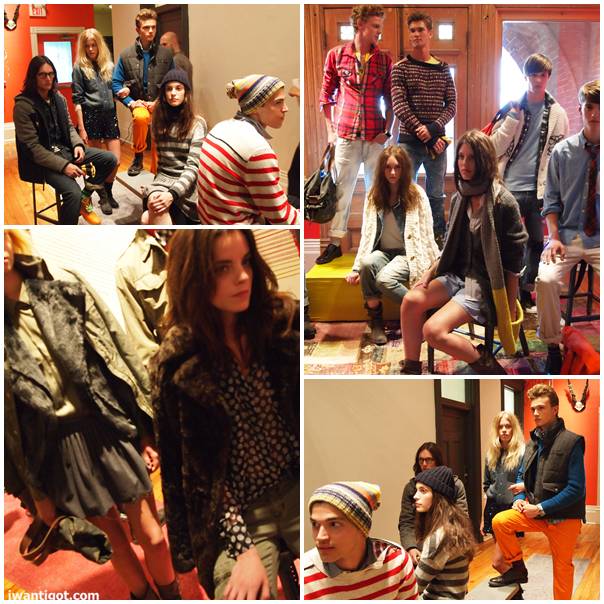 Tommy aims to focus on handmade details, distinctive materials and unexpected pairings for unique looks. For example, a washed, tailored jacket could be mixed with vintage-inspired long johns and hand-painted brogues, or a men's wear shirt coupled with a slouchy boy-fit sweatshirt and destroyed denim and cropped motorcycle boots shown with a feminine clutch.(source)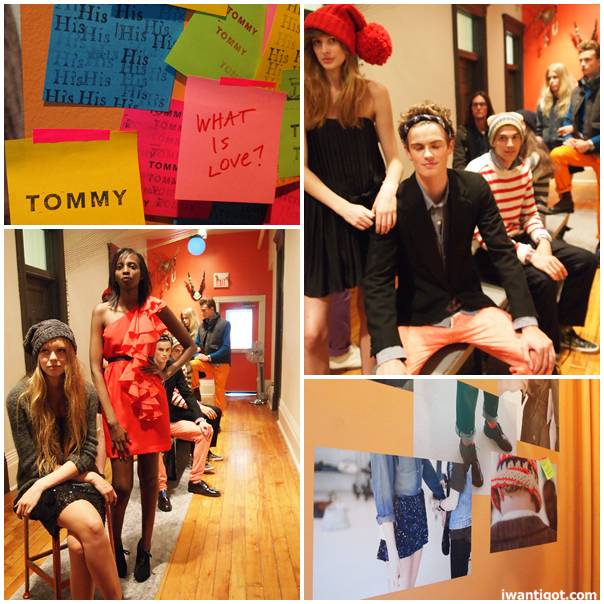 Tommy is "absolutely a reaction" to the ubiquity of specialty store environments, said Gary Sheinbaum, chief executive officer of Tommy Hilfiger USA. "The way we're going to merchandise Tommy will be distinctive and different, not so formulaic. It will be more of a fun, dynamic experience. The product itself, we feel, is going to be a fresh take on the preppy traffic, done in a fresh, young, cool way. When we look around, we don't see anyone doing anything like this."

"We're very careful," Sheinbaum said. "We understand that, in today's environment, you have to have a great price-value proposition."(source)
This collection will launch in Canada in October with three retail stores, two of those being in Toronto and one in Edmonton. The collection will also be available in 14 existing Tommy Hilfiger stores in Canada. The Canadian launch is due to the large retail business here. It's possible that the line could have a wider launch and international rollout.
The Tommy store design will be a white box with a pop of color, with decorative objects and modern art installations in the windows and throughout the space. The store's optimal size is about 4,000 to 4,500 square feet, Sheinbaum said.(source)
The line itself looked pretty cute. I'm sure that had a lot to do with Kate Lanphear's styling. There were some fun details like the embroidered eyeglasses that I really enjoyed. There was a lot of denim and military influenced jackets paired with sweaters of all varieties. To make a final judgment I really need to feel and see the clothes up close. It will be interesting to watch how this line unfold in October.
I couldn't take my eyes off the male models. They were just so good-looking, it was a bit scary. The launch party itself was very well done. There was the presentation upstairs on the 2nd floor for an hour. Then everyone, including the models, moved downstairs for the after party. I felt sorry for the models who had to wear these heavy layers during our frequent heat waves in Toronto. There was a flipbook making station which is always a hit at events. Add some extrovert models and it's a total party. The Globe and Mail has some great photos from the event on their post called TOMMY by Tommy Hilfiger presentation. There is a photo of me with friends included and a snap of Kate Lanphear in the slideshow.
You can see a slideshow of hi quality images from the TOMMY by Tommy Hilfiger Holiday 2010 Preview after the jump.