Designer denim isn't dead. Holt Renfrew and Hudson have teamed together to bring Hudson Jean's first high end collection. This collection differs from regular Hudson collections because the pieces are hand made using raw denim and the process is labour intensive.
With the new Collection I wanted to reinvent the idea of traditional denim and tops—its an anti uniform approach. Each piece has so much individuality and lets the wearer express her own style and personality. It is the roots of the HUDSON "way of life". (lead designer for Hudson Jeans, Ben Tavernit)
Pieces in the line include jeans, tops, dresses and jackets with prices ranging from $145 – $995. Jeans will average around $400. The line is exclusive to Holt Renfrew and is available at the Bloor, Yorkdale and Vancouver locations.
Standard n. Of recognized excellence or established authority.
The common thread within Standard and the foundation of the Collection is Denim. Standard is style that comes from the classic HUDSON aesthetic in its purest form. Denim becomes the new neutral. Standard is both modern and timeless with attention to construction and design. A neutral color palette and uncomplicated washes are in harmony with clean lines and understated design.

Bodies: Skinny, High Waist, Baggy Skinny, Double Waistband Skinny
Washes: Rinse Resin, Black and Grey Over-Dye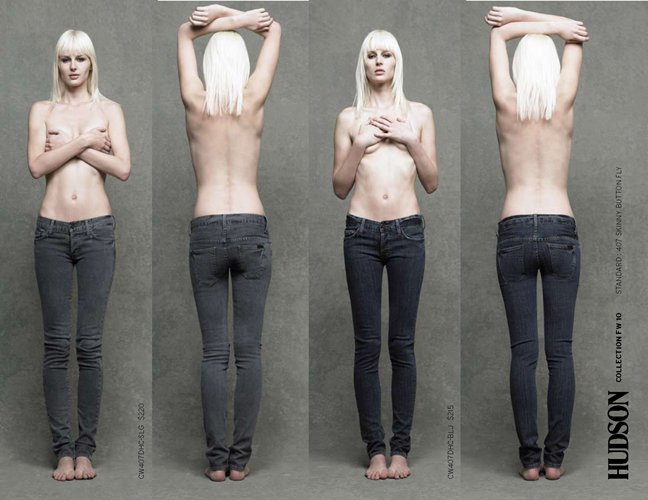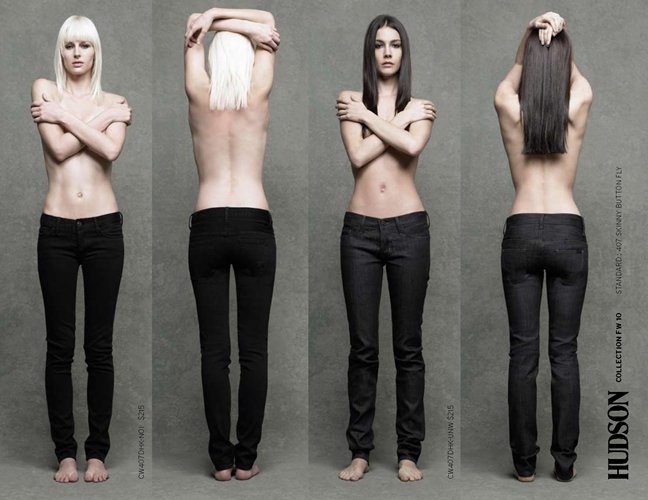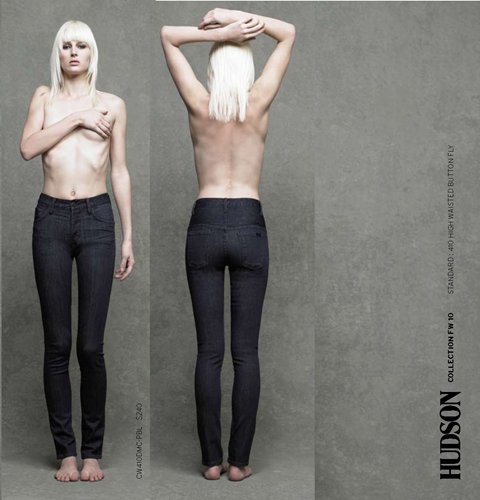 Bespoke adj. Made to individual order.
Bespoke is rooted in the craftsmanship of fine tailoring. Overlock stitching evokes the process of hand-styling and fitting the garment, which becomes a piece of art even in its unfinished stages. Overlock stitching reveals the construction in streamlined androgynous styles. Menswear inspired suiting details such as trouser pockets and notch-back waistbands bring a touch of masculinity to the refined look.

Bodies: Skinny, Baggy Skinny, Trouser Skinny, Twisted Trouser
Washes: Rinses, Coatings, Wool, Textural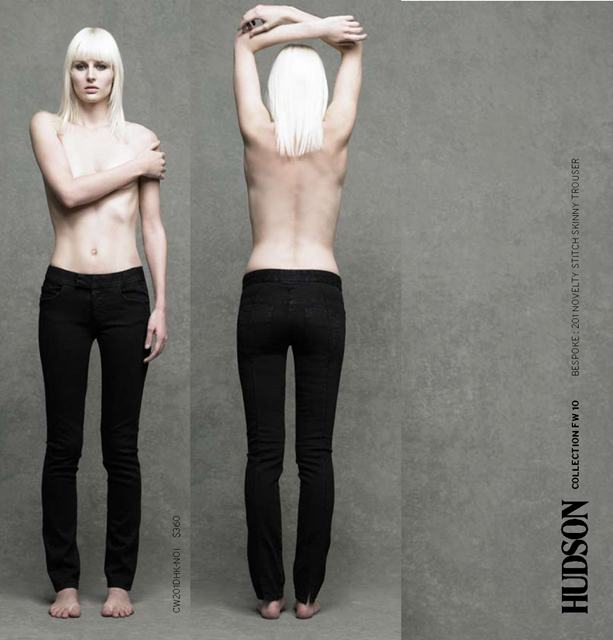 Shadow n. A dark figure cast by the body intercepting light.
A Bare minimum of details puts emphasis on the silhouette. Lightweight construction rests on the body like a shadow and accentuates its true shape. An absence of top-stitching, and darts turned inside result in technically challenging construction and a look of unparalleled simplicity. Ultra light silk, stretch and boiled wool in dark washes project a shadowy silhouette.

Bodies: Skinny, Baggy Skinny, High Waist
Washes: Denim (rinsed or unwashed), Boiled Wool, Stretch, Silk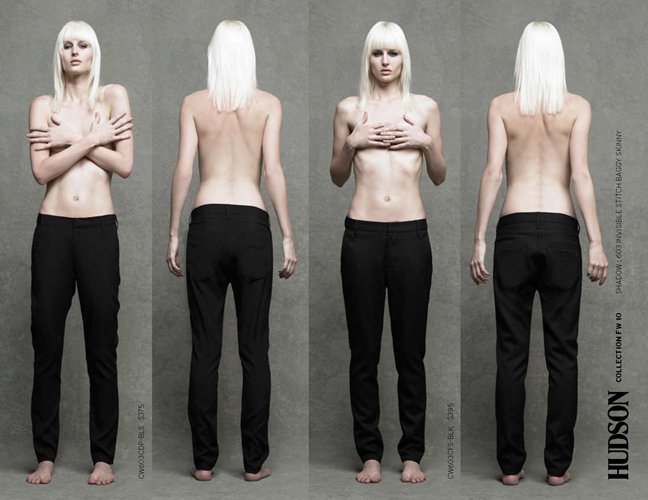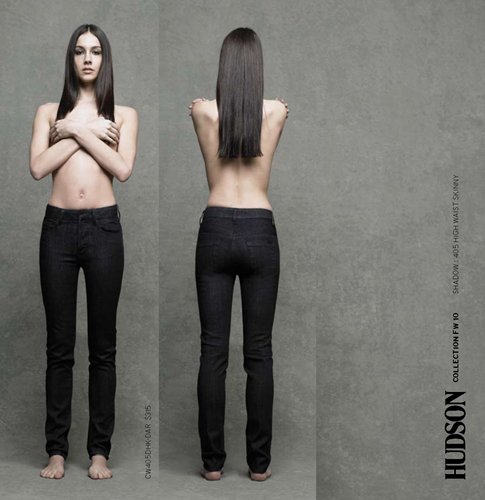 D.I.Y. n. An activity in which one does something oneself or of one's own initiative.
D.I.Y. is hand-styled and unique– the garment becomes infused with the wearer's DNA. Cut and custom zippers and exposed inner waistbands convey a neo-punk vibe. The look is a reactionary response on an individual scale to modern reliance on mass-production. The emphasis is on individuality and rejecting conformity. Distressed washes and rough details imply a history of interaction with the wearer. Raw edges and exposed hardware come from an innovative attitude that shrugs off the establishment.

Bodies: Skinny
Washes: Leather, Wax Coated (Leather look), Wool, Rinses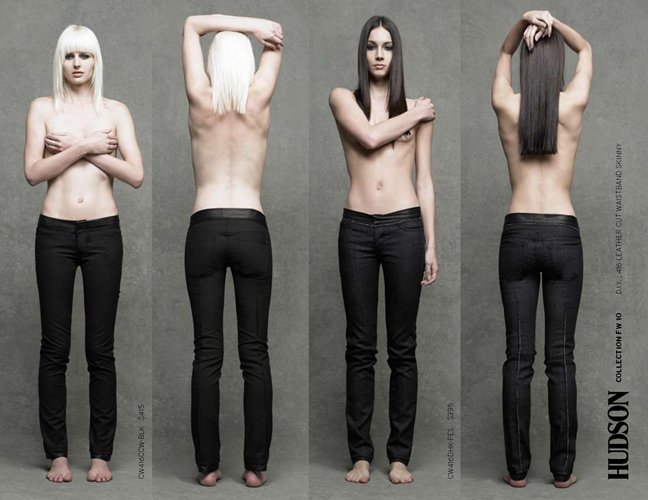 Tops & Dresses – HUDSON tops employ draping and a mix of textures and asymmetrical shape to play with positive and negative space. The ultra-light fabrications in black and white complement the minimalist palette of the rest of the Collection.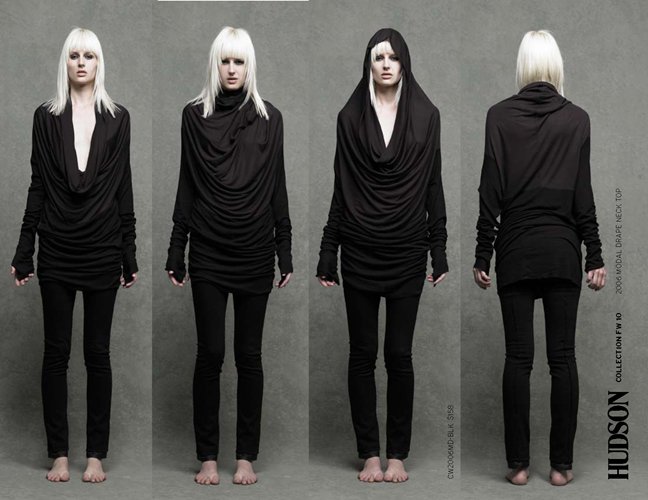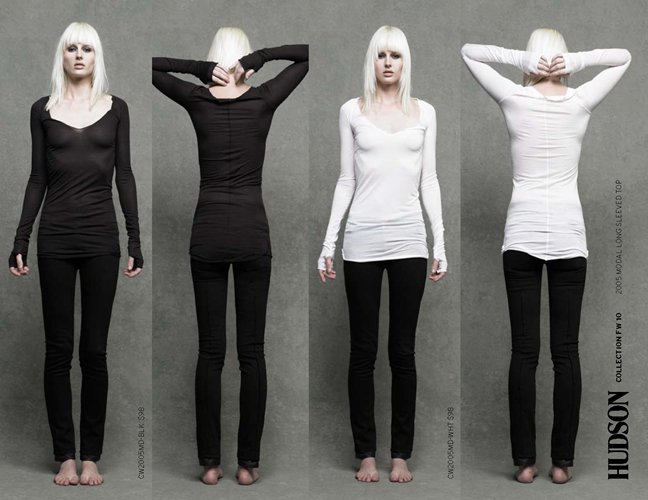 Jackets