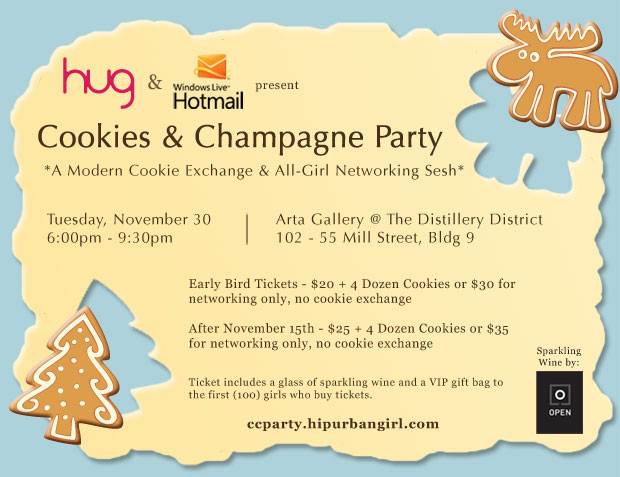 The hugTO Cookies & Champagne Party

@ Arta Gallery, Distillery District – 6 PM

We are hosting a champagne-infused all-girl networking sesh + modern cookie exchange.

How it works:

1. Bake (4) dozen cookies the weekend before the event, bring all your baked goods with a card explaining your baked creation. Please no store-bought.
2. Don't bake? You can still come! Just buy the appropriate ticket.
3. We set-up everyone's cookies in a giant sugary spread!
4. Bring (2-3) big containers or giant ziploc bags to store your new cookies in.
5. Everyone moves around the table and takes home one of each cookie.
6. Eat the extras, while networking with 200 of the coolest hip + urban girls in the city.
7. Sugar coma ensues! Shop the HUG Mini Christmas Market of local vendors & artisans.

Your ticket includes:
1. A complimentary glass of 'Open' sparkling wine, cash bar also available
2. VIP Gift Bag to the first 100 guests to purchase tickets, worth over the cost of your ticket!
3. Access to the cookie exchange, networking party and HUG mini Christmas market
4. Red carpet arrivals and pictures with your new friends in the Hotmail Photo Booth
5. HUG snacks from Summerfresh Foods and Pita Break
6. Fresh *Hot* Crepes from The Crepe De Licious Crepe Stand!!!
Buy tickets at hugTO: Cookies & Champagne Party.