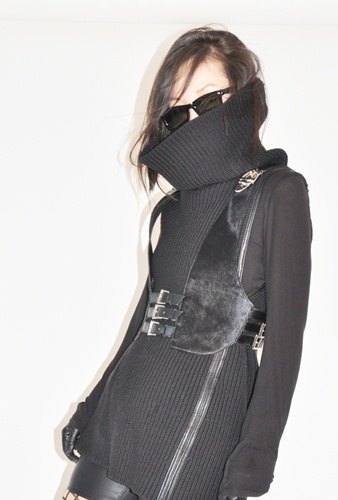 Ji from Luxirare is one of the best fashion bloggers out there. She has a website that talks about food and fashion and uses the best photography to explain her point. It's drool worthy and inspirational. Ji creates fashion and food that leaves her readers in a frenzy. Ji has started selling some of her designs online to the enjoyment of her many fans including me. I'm talking lux leather jackets and handbags. Right now I'm eying the Luxirare Minivest.
This minivest is the perfect accessory to carry your most important items with you, without having to carry a bag. Or you can just wear it as a stylish accessory to add another layer to a jacket or a shirt. Carry your phone, cash, keys, lipstick and credit card with you.

The back of this minivest is rendered with a flattering racer back style. Each vest part is connected with belt straps that are integrated for full adjustability. This vest fits women of all sizes. Adjust accordingly to your size and amount of layering you plan to do for your outfit.

The minivest is designed for both the blackberry and iphones. It carries most other cellular devices as well. There is also an integrated zip pocket for cash and credit cards, as well as a detachable clip for keys.
I would have ordered this vest right away, but I'm going on vacation to Vancouver and Whistler this weekend and I placed myself on shopping embargo. The vest would have been 2.5 lift tickets. Right now I need the mountain more than the vest. I'm hoping that when I return there are still some left over.
image: luxirare.com