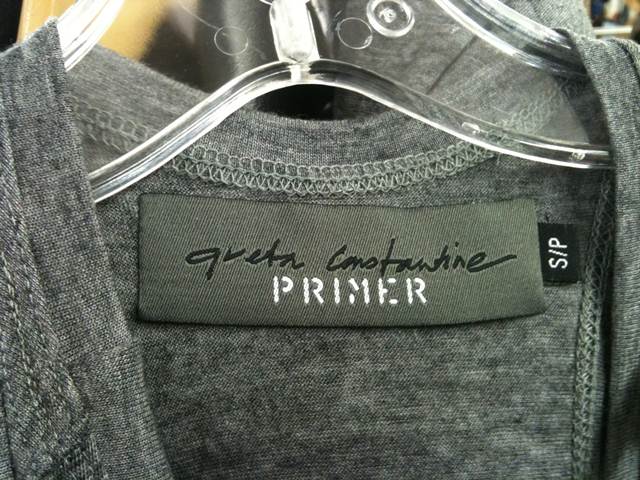 Collaborations are the news in Canadian fashion so it's good to see something that isn't about one. Greta Constantine has created a capsule collection called Primer which consists t-shirts done Greta Constantine style.
Kirk Pickersgill and Stephen Wong of Greta Constantine are bringing their master drapery and attention to fit to a whole new audience. The capsule collection, aptly named Primer, serves as the base coat for a woman's wardrobe and is to consist of both separates and dresses.

But don't expect basics. Every piece in the collection features a subtle feminine twist like leather straps on a tank top to allow for easy belting or draped t-shirt dresses with exaggerated pocket detailings. This is all part of Stephen and Kirk's desire to re-imagine contemporary staples.

As Stephen elaborates, "designing the collection demanded that we consider what makes a t-shirt so perfect. Fabrication, lengths, colours. While a woman may be willing to suffer through a pair of heels, comfort without looking comfortable is what we sought to achieve with Primer."

The line, with prices ranging from $95 to $275, offers numerous options for both current clients and those who may otherwise be constrained in purchasing Greta Constantine.

"Our dream has always been to be a part of every woman's wardrobe. This collection offers us that very opportunity," explains Kirk. "There's been a push in fashion, as in other industries, to further democratize or enhance accessibility. This is our contribution."

A Greta Constantine Primer pre-capsule collection will be available at TNT The New Trend's Hazleton Lanes location (87 Avenue Road) beginning Thursday, May 20, as part of the Canadian retailer's 20th anniversary celebration. The pre-capsule will be available through mid-July.
image: courtesy of Greta Constantine