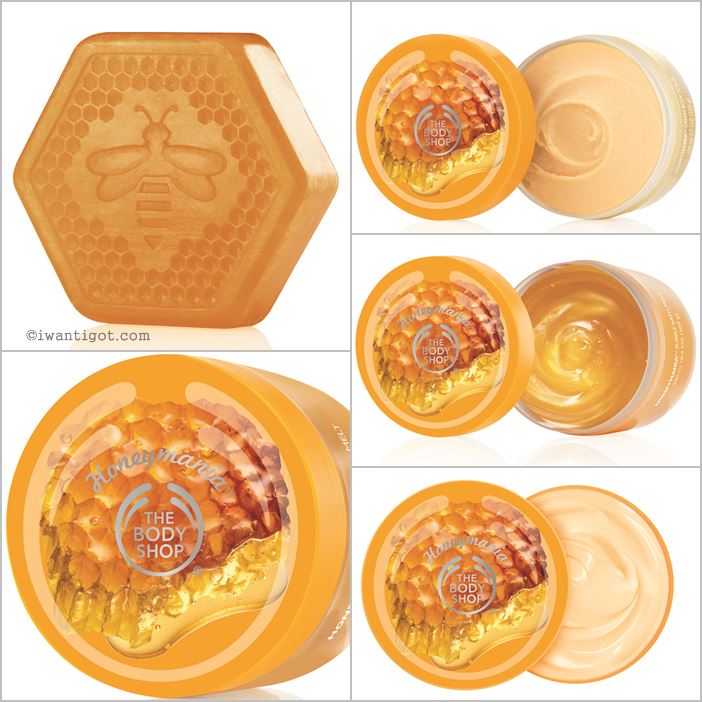 It's been over a decade since I've shopped at The Body Shop. In university, I was obsessed with their fragrances and the colourful glycerin soaps. Other brands caught my eyes over the years and I moved away from The Body Shop. Fast forward to now and a package from The Body Shop arrives at my door.
They are launching a new product line called Honeymania. They have partnered with Beza Mar beekeepers in the remote Sheva rainforest in Ethiopian highlands to bring community fair trade honey to incorporate into the Honeymania product line. The beekeepers work with the bee's natural cycle and use traditional techniques so that their use of the bees and the rainforest is sustainable. The hand harvested honey is food grade and it's sold by luxury brands as table honey.
Launching in stores on October 7, 2013, Honeymania will feature Lip Balm, Soap, Shower Gel, Body Butter, Bubble Bath Melt, Body Scrub and Eau de Toilette. Each product has a delicate scent with notes of floral honey blossoms and sweet honey. The collection ranges in price from $4 to $20.
I didn't have any intention of trying the Honeymania collection at first but then I ran out of moisturizer and body butter was sitting right there. I've never really liked heavy moisturizers like Body Butter because I prefer them to be light and quickly absorbed. Honey is one of my rare food dislikes. I don't use it as a sweetener and never in tea. When honey is incorporated into foods I don't mind. I'm not the biggest fan of the way honey smells either, too sickly sweet to me and that a big turn off.
Thankfully, Honeymania doesn't smell sickly sweet. The press kit was right and the scent is delicate, not overpowering. Body Shop's Body Butters are known for their hydration and this product continues with that heritage. The butter was easily absorbed into the skin quickly and wasn't greasy. Those two features are a must when it comes to moisturizers. I hate greasy hands. I fell in love with the Honeymania Body Butter at the Greta Constantine pool party. A friend approached me at the bar and began commenting on my legs and how great they looked. He specifically mentioned that they gave off this great healthy glow. This was the first time I've ever heard this kind of compliment on my legs. It's the Body Butter I exclaimed, I can't believe it. I knew then I had a new product to add to my routine. That's how easy it is to get my seal of approval, appeal to my vanity. 🙂
I also enjoy the Honeymania glycerin soap. It comes in a cute honeycomb shape that makes you want to keep it in your bathroom for years like a grandmother. The soap is also lightly scented which makes it really pleasant to use. Honeymania Body Butter is $20 and the soap is $4. The Honeymania collection is available online right now but you'll have to wait a few weeks to see the products in store.
images: courtesy of The Body Shop