I haven't been to the Autoshow in at least twenty years so I jumped at the chance to write about the new The MINI Beachcomber Concept car. The MINI Beachcomber was making a short stop in Toronto for its first Canadian appearance before being whisked to Europe for another autoshow. It may seem a little weird to my regular readers, but I'm a huge MINI fan. I love luxury and sports cars with Porsche being my favourite. Way back in 2006, I wrote a post for blogTO about Zipcar and my first experience driving a MINI.
Luxury event managers, CANDICE&ALISON were hired to produce the MINI Beachcomber launch with the theme of beach tailgate party. They brought together a mix of fashion designers, models, makeup artists and product designers to contribute to the launch. The theme was heavily influenced by retro 50s beach party pop culture.
Canadian designer Farley Chatto created MINI branded pin-up retro polka dot bikinis, a pair of board shorts and sheer tank. Jon, Vlada (black hair) and Caitlin of Elite models stepped out in Farley's clothing to create a buzz around the car. Make-up/Hair Artist Ivy Lam recreated the 50s pin-up look for the women and a clean-cut 50s surf boy look for the lone male model. Jon, who is dangerously attractive, reminded me of Superman. He has that classic tall, dark and handsome look.
It seemed like Vlada was a pin-up girl in a previous life, she played the role so authentically. She really knew how to use the car in her poses. There was a high fashion element to this launch which was a refreshing change from the typical car show model. Models, high fashion or not, were very scarce at the autoshow, so this drew a lot of people to MINI's booth.
Rounding out this group was Product Designer, Jasin Dollin who is known for creating the Lil'g (It will be available this year). It's a DIY designer boombox made of vinyl which allows for customization. It can play your MP3 player. Jasin created a custom Lil'g for the MINI Beachcomber launch which spent a lot of time with Jon.
The best part of the presentation was people watching. Women in bikinis are a draw and I'm sure Jon helped steer some women over too. Many people wanted their pictures taken with the models. Men chatted up Vlada. There were several really cute moments involving little kids and the models. I saw Elvis, I'm not joking.
So you are probably wondering about the car. Let's get talking about it because I think it's really fun. The MINI Beachcomber Concept is a four seat open body concept car. There are no permanent doors on this vehicle. Protection from the elements comes in two forms. One is a removable soft roof that is similar to a tonneau cover on a boat. The roof is an extremely light "very robust special fibre" (BMW's words not mine) with excellent protection from wind and rain. The roof also has transparent plastic inserts at the sides and rear acting as windows. The second option is extra-light plastic, flush fitting inserts that are for the doors and the luggage compartment lid of the car. The principle is to mimic hardtop functionality. None of these options were present for my visit and there are no images in the media kit, boo.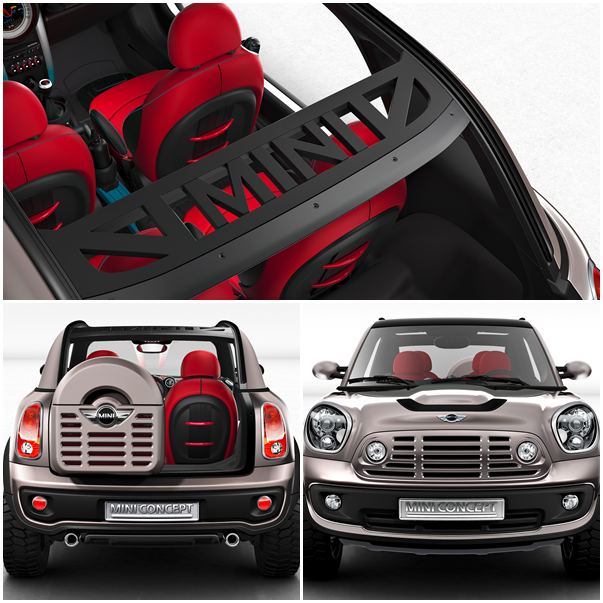 The MINI Beachcomber Concept is a 21st century reboot of the Mini Moke. I have very fond memories of the Mini Moke. It reminds me of sea, sand, salt, Barbados, sun, flying fish, breadfruit and family. My parents are from Barbados and we have had many family vacations on the island. The Mini Moke was very much a sand a surf kind of car and had widespread usage in the Caribbean. The target market for the MINI Beachcomber Concept is the kitesurfers, wakeboarders and triathletes of the world. It boasts of its "special fastening systems" with makes it perfect for storing bulky items like mountain bikes, surfboards and wakeboards.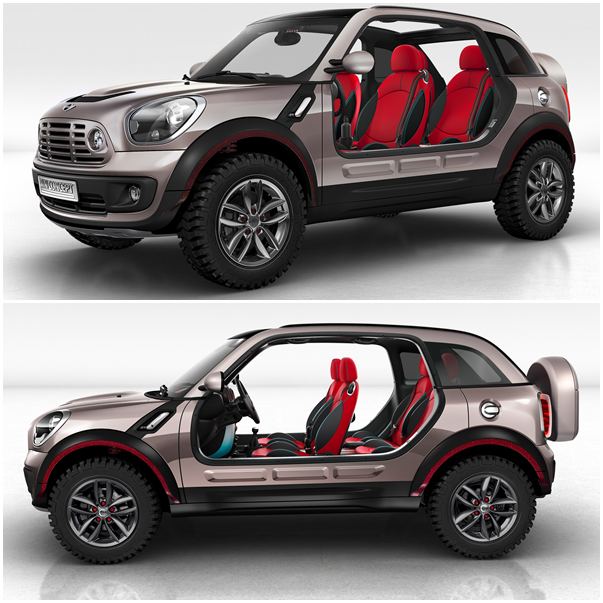 The MINI Beachcomber is equipped with 17-inch light-alloy runflat tyres and doesn't need a spare. What you think is a spare tire compartment is actually a removable case with lock that is for storage. Instead of unnecessary air vents, the Beachcomber has more speakers for the stereo system.
The dashboard resembles a cockpit with spherical instruments that include a liquid sprung compass embedded in the steering wheel, an artificial horizon instrument which shows the angle of the car along its longitudinal and transverse axis and the Center Rail which connects the front and rear seats providing a special fastening system for components like external music players, storage boxes, shelves, armrests and integrated cable duct for connecting devices to car's entertainment system (it provides power too).
I'm not going to go into too much more detail about the MINI Beachcomber. It's a concept car and no production is scheduled. I've been told that future production models will have some of the Beachcombers elements and technological advances . It has a price tag of 1 million dollars. The freaking grill costs $300,000 alone. That is why they kept everyone except key staff and the models far, far away from the car. It's a bit of a shame as I would have like to sit down in it. I'm in love with the seats.  Autoblog has a great gallery of images including closeups. I've distilled what elements I've found attractive about the car in this post but if you are so inclined you can download the full 11 page MINI Beachcomber Concept brief in PDF format to see what I left out.
Here is a video produced by MINI in which, Director of MINI Design, Gert Hildebrand talks about the Beachcomber at the Detroit Autoshow 2010.
If you want to see the MINI Beachcomber Concept at Toronto Autoshow 2010 you need to go Sunday, Feb 13, it's heading overseas on Monday.
Check out all my photos from The MINI Beachcomber Concept launch at the Toronto Autoshow 2010.