Here are a few things I've purchased recently.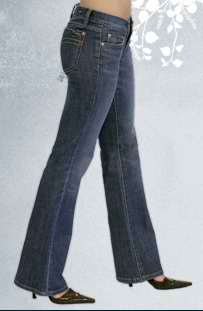 I got these jeans while on vacation in Vancouver in March. They are the perfect length for me (32 inseam). I wear more flat shoes, so getting a 34 inseam really sucks. I don't want to cut them because they are perfect for heels; but I have to roll them up to wear them with flats. This drives me insane. So it's nice to have jeans that fit perfectly. Apparently these jeans make your butt look really good; I'm not a very good judge of that though. The designer Jason Trotzuk is a Canadian and the creator of Dish Jeans. Fidelity is a little higher end than Dish jeans but only by about 50 – 70 bucks.
OK47 Muscleshirt and Halter Top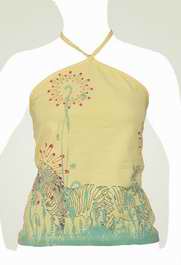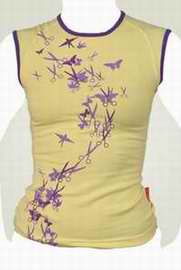 As a gemini, yellow is my colour. I love lots of colour, it's helps that I have the complexion that allows me to wear all the colours of the rainbow. These 2 lovely items are from another great Canadian company OK47. They make funky printed clothing. I have this great lawnmower shirt by them from last season. The clothing is made from quality cotton and will last a long time. The prints are very good and do not wear off in the wash. I always hang my OK47 shirts to dry, so I'm not too sure about the dryer.
Dish Jeans demin skirt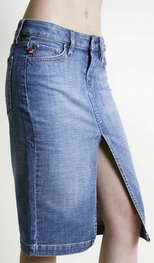 Finally I found a demin skirt. I've had trouble finding ones that fit comfortably, but of course great Canadian demin company Dish Jeans have helped me out. I have also purchased some jeans from Dish. I can't find any pictures of them so I haven't blogged about it. They fit great though. Dish jeans are high quality and great fit without a massive price tag. Jeans are under a hundred bucks.