I love Diesel, especially their shoes. Today I was walking to a friend's birthday party after a great game of squash. I had some time to kill so I walked through the Eaton Centre and then headed north on Yonge. The Aldo Shoe Outlet (map it!) was having a sandal sale so I decided to check it out. 20 bucks for sandals, you usually can't go wrong. Well today I had no idea how lucky I would be.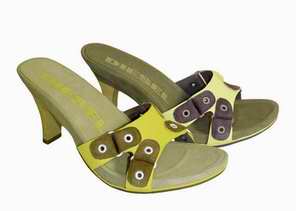 These beautiful Diesel mules were on sale for 20 DOLLARS and they were my size (in the purple, not green). I couldn't believe my luck. I asked 2 sales associated just to be sure.
Retail for these shoes is $159.99 (yes, that's the real price).
And yes, I got them for 20 DOLLARS, 20 FREAKIN' DOLLARS. SCORE!!!!!
I have 5 pairs of Diesel shoes currently (oops, 6 now) but these are my first Diesel heels, and I love them. I'm contemplating buying these beauties too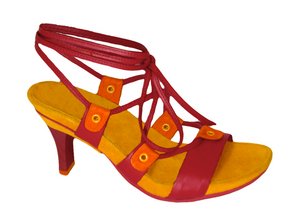 Diesel shoes are very, very comfortable; you can walk forever in them. I also find that they are well made, and worth the money you pay for them. What is it they say, not to skimp out on shoes and hair. Well, I don't have much hair, but I don't mind paying for great, well made shoes. I had one pair of Diesel shoes that I literally wore out, and the sole started to fall apart. It only took a year, but I was wearing these shoes like everyday. It's a shame too because they were so damn cute and matched a dress I had perfectly.